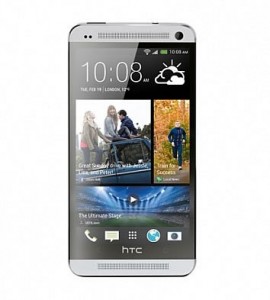 The HTC One was a highly anticipated handset and it didn't disappoint. With world beating specs it's one of the best smartphones yet and should be a consideration for anyone who wants a top end handset.
It has an array of dazzling specs, from a 4.7 inch 1080 x 1920 Super LCD3 screen with a crystal clear 469 pixels per inch pixel density, to a 1.7 GHz quad-core processor and 2 GB of RAM. That's all backed up by up to 64 GB of storage and an innovative 4 megapixel camera – which eschews megapixels in favour of letting more light into the lens to great effect. It's all wrapped up in a sleek metal body, for a premium look to match the premium specs.
It's not a perfect phone, the battery life is troubling, there's no micro SD card slot and other phones such as the Samsung Galaxy S4 have bigger screens and arguably better cameras, but it's definitely among the best phones that money can buy.
Thanks to EE it's just become even more tempting as the network have made it available on their 4GEE service- currently the only 4G network in the UK. So if you want both a superfast handset and a superfast network the HTC One on EE is one of the best combinations currently available.
EE have made the HTC One available on a number of 24 month plans, from £41 a month with 1GB of data, unlimited calls and texts and a one off handset cost of £69.99 right up to £76 a month for 20GB of data, unlimited calls and texts and an upfront fee of £29.99. You can also choose a 12 month plan if you'd prefer (though these are of course more expensive).
Be aware that they don't offer any unlimited data plans- so you might have superfast 4G but you'll have to be careful with how much you use it, particularly on the lower end plans.
Of course if you're not fussed about 4G you can also get the HTC One on other networks such as O2 or Vodafone. Equally if you do want 4G but you're not convinced by EE or their price plans it might be worth considering Three and their Ultrafast service, which isn't as fast as 4G but it's a lot faster than 3G. Plus Three's Ultrafast phones are 4G ready and will be switched to a 4G plan when available- so just as soon as Three get their 4G network up and running it will make its way to your handset. Better yet, for the time being Three are offering unlimited data, so you'll actually be able to make full use of your superfast service.
You could also wait and see what Vodafone and O2 will offer when their 4G services launch. But if you need 4G now, EE and their 4GEE service are still the only choice and you could do a whole lot worse than plumping for an HTC One to use it on.
Note to web owners and webmasters - Feel free to link to our article.