[caption id="attachment_2506" align="aligncenter" width="300"]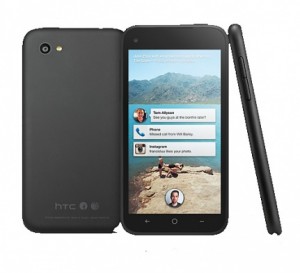 HTC First on EE[/caption]
Not only are EE currently the only UK network to offer a 4G service but they're also looking set to be the only place that you can get the HTC First, so if you like the sound of having a phone that no-other network can get its hands on complete with faster mobile internet than any other network is currently offering then this might be for you.
The HTC First- which will be available on EE this summer, is a mid-range smartphone with a 4.3 inch 720 x 1280 screen, a 1.4Ghz dual-core Snapdragon 400 processor; 1GB of RAM, 16GB of built in storage and a 5 megapixel camera (which can also shoot 1080p video at 30 fps). If it's priced right that makes for a solid array of specs, though not enough for it to compete with the likes of the Samsung Galaxy S4 or the HTC One. It's also worth noting that there's no micro SD card slot, so you can't expand the storage beyond the 16GB that are built in.
It runs Android 4.1 (Jelly Bean) but that might not be immediately recognisable as it's been heavily skinned- and not with the Sense interface that most HTC handsets have, instead the HTC First is overlaid with Facebook Home. It's the first handset to do so (hence the name presumably) and it makes Facebook central to the whole experience.
This is achieved in a number of ways, the most immediately obvious of which is 'cover feed', which essentially brings your Facebook feed to your homescreens, showing you new pictures and status updates as they happen without you having to launch the Facebook app or go to the site.
You'll also get notifications about missed calls and other events in the same stream, but your phone needn't get bogged down in them as you can swipe away things that you've read or aren't interested in.
Messaging has been redesigned with Facebook in mind too. You can send texts and Facebook messages from the same place and if someone sends you a Facebook message a 'chat head' will pop up on your screen. This is a little circular image of them which you can tap to read and reply to their message or drag around to move it out of the way if you're busy- and these will pop up over other apps, which might seem intrusive but will mean that you never miss a message. See Facebook Home in action below.
This might seem like a major exclusive for EE, but in fact Facebook Home is also compatible with some other Android handsets- currently the HTC One, HTC One X+, Samsung Galaxy Note 2, Samsung Galaxy S3 and Samsung Galaxy S4, so it's not such a big deal after all.
If you have a compatible handset you can download it from Google Play, but so far user reviews don't seem all that positive and there's the sense that it wasn't thought through quite as well as it could have been, since for example you still need to launch a separate Facebook app to actually get to your Facebook profile.