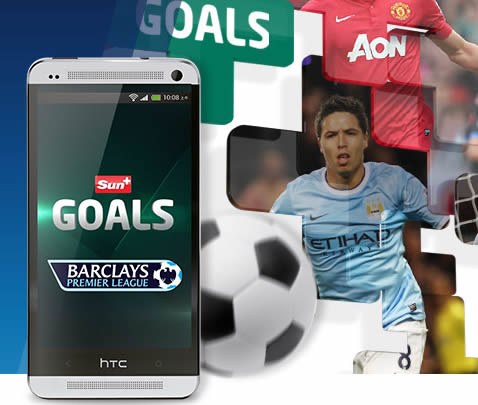 The perks of being an O2 4G customer have been pretty thin on the ground lately, particularly compared to say Vodafone, which lets customers choose from a free Spotify Premium or Sky Sports Mobile subscription or EE which comes with unlimited access to Deezer on certain tariffs.
But O2's extras just got a boost thanks to Sun+, the highlight of which is Sun+ Goals, a mobile and tablet app which lets you watch every Premier League, FA Cup and Scottish Premiership goal and highlights. The Sun has exclusive rights to the clips on mobile devices, so Sun+ goals is the only way to watch them.
Even if you're not a football fan there's still plenty to get excited about with Sun+, as it also gives you access to thesun.co.uk, The Sun Mobile app and The Sun Tablet app, allowing you to download The Sun to your mobile device every day and stay up to date with all the latest news and entertainment stories.
So how do you get all this? Just upgrade or sign up to an O2 4G tariff with an iPhone or Android device. If you opt for 5GB of monthly 4G data you'll get 6 months access and if you sign up for 8GB per month you'll get a full 12 months access. Plus with a 4G plan you'll be set up to enjoy the latest match highlights on the go and can easily download the paper on the way to work.
Along with the Priority Moments app that O2 already offered, the network finally has a compelling selection of extras, making the choice of which 4G network to sign up to that little bit harder.
Have a look at : O2's 4G Network Put Through Its Paces in London