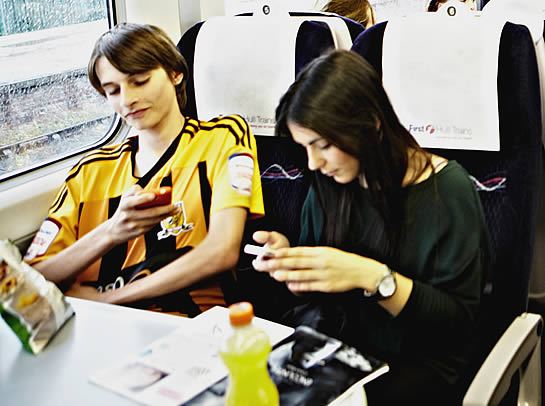 4G on a train now that's progress
As well as spreading far and wide across towns and cities,
4G
is also coming to public transport and First Hull Trains is one of the first train companies to roll it out.
The company has announced that it's already begun trailing the technology and it's using mobile connectivity company Icomera to roll out 4G to its trains. Once customers sign up they'll automatically reconnect whenever they use a First Hull train, so not only is it free but it's also simple to use.
First Hull Trains already has a free Wi-Fi service on board its trains so this is a natural next step, but the company isn't stopping there as it's also giving passengers free access to more than 22,000 Wi-Fi hotspots run by The Cloud and it's partnered with ITV to deliver a selection of streaming programmes to passengers throughout their journey. To access all these features you simply need the latest version of the free First Hull Trains app.
While this particular rail operator is getting ahead of the game it's not the only one with plans for a 4G future. Virgin Trains has announced plans to equip trains on its West Coast network with 4G, while EE itself is working on bringing 4G to some of the UK's busiest rail routes this year, including the line from London Euston to Birmingham New Street and from London Victoria to Brighton, as well as extending out to Manchester, Liverpool and Glasgow.
Network Rail has even more ambitious plans, with aims to bring 4G to 70% of rail travellers by 2019. It's not just trains which are getting a 4G boost either. EE is bringing it to major roads and airports and Addison Lee is equipping its fleet of cabs with free 4G connectivity, so soon you really will be able to get 4G almost anywhere in the UK.
You may also like to read