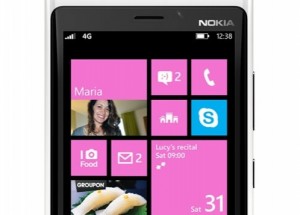 The 4G enabled Nokia Lumia 920 is available to buy now and the 4G enabled Nokia Lumia 820 will be available to buy in the next week. Both can only work on 4G with EE ( Everything Everywhere – which owns Orange and T-Mobile ) and when connected to a 4G network will run five times faster than the same phones on a 3G network.
These are the first 4G phones from Nokia which will work at 4G speeds so what better time to have a look at what Windows Phone 8 brings to the party. Many people in the industry are mildly confident that the combination of Microsoft's Windows Phone 8 and Nokia's 4G phones will once again make Nokia a major contender for sales of high to mid range priced smartphones.
Windows Live Tiles Run Through
Live Tiles is one of the stand-out original features of Windows Phone and this has been improved for Windows Phone 8. This includes having three sizes and 20 different colours of "themed" Live Tiles to choose from. This offers a nice customisation option which should make Windows Phone users a shade more content with Live Tiles.
Live App Updates Run Through
Windows Phone 8 now lets users configure the Tiles to deliver real-time App updates onto the lock and home screens. This means that e.g. Facebook updates can be viewed directly from the home screen and users can view e.g. weather updates on the lock-screen.
Rooms Run Through
Windows Phone 8 Rooms is similar to BlackBerry Messenger in that you can invite people ( or a group of people ) to a chat-room ( see above ) to send messages, share photos and videos and in fact anything you like just about.
Data Sense Run Through
Microsoft has added "Data Sense" to Windows Phone 8 so that phone users can easily monitor their 4G mobile data allowance and see what mobile data has been used. Once your data allowance nears the maximum limit, Windows Phone 8 will switch into "Data Saving Mode" and automatically compresses images and data to make your data allowance last as long as possible.
This is particularly useful with a 4G Windows Phone 8 phone on EE as on the cheapest monthly contract you get a mere 500MB of data.
Kids Corner Run Through
Windows Phone 8 includes "Kids Corner" which is basically a parental control module. This lets the parents set up parental controls on any phones used by children. The parental control means the children will use their own start screens ( see above ) and have limited times and applications which they can access the 4G mobile internet.
Support For Latest Hardware Run Through
Windows Phone 8 now comes with added hardware support for most HD displays and multi-core processors and brings WP8's hardware support capabilities alongside Apple iOS and Android.
One thing 4G.co.uk remembers with the last version of Windows Phone was that microSD cards were not supported but this is now included. Near Field Communication ( NFC ) has also been included and this is important as NFC becomes more widespread in 4G phones.
Windows Phone 8 Conclusion Run Through
Windows Phone 8 is a big step forward from the earlier version ( WP7 ) in a number of ways as can be seen above. The two 4G Nokia phones ( Lumias 920 and 820 ) will really benefit from these improvements and 4G.co.uk give Windows Phone 8 a big thumbs up.
4G.co.uk will get a further insight into the workings of Windows Phone 8 and the 4G Nokia Lumia 920 as we are currently reviewing the phone and will shortly post our Nokia Lumia 920 Review by 4G.co.uk.