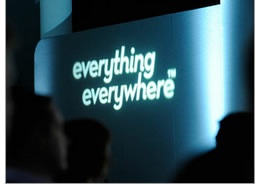 Everything Everywhere ( EE ) has signed up Morgan Stanley to handle the sale of its spectrum chunk. The Operator hopes the sale will be concluded before the planned upcoming 4G auction.
The operator had hoped to sell off a 2 x 15MHz piece of its 1800MHz spectrum in order for the merger of T-Mobile and Orange to get the green light. Morgan Stanley will go into discussions with interested parties and the hope is that the sale will conclude before the 4G auction that is set to take place later in the year.
It has been suggested that the chunk of spectrum could sell for up to £400m. It is most likely that bidder will be rival 4G operators, although technology firms could also be in the running. Whoever makes the highest bid for the spectrum will have to get approval from both the European Commission and Ofcom, and be able to demonstrate how they will be able to contribute towards a competitive network.