[caption id="attachment_5898" align="aligncenter" width="446"]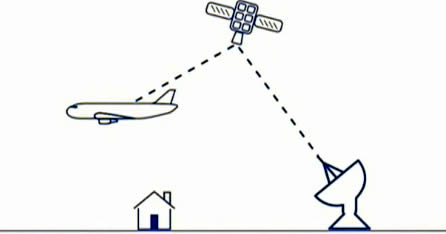 How connectivity on a plane gets to ground
[/caption]
The European Commission (EC) has given airlines the green light to offer on-board passengers 3G and 4G mobile internet access. Passengers will be able to surf the mobile web, send emails, stream movies and all at much higher speeds than possible today.
Prior to this announcement, it was only possible for airlines to offer 2G services to in-flight passengers. The new rules permit airlines to offer 3G and 4G services once the aircraft has risen to over 3,000 meters.
Just prior to the EC's new ruling on in-flight entertainment, the European Aviation Safety Agency (EASA) said that it will allow passengers to use tablets and smartphones during all periods of a flight. However, laptops, being that much bulkier will be required to be stowed away prior to take off and landing.
The EASA will release formally approved guidelines including the list of approved devices and the rules for in-flight use of 3G and 4G mobile broadband before December.
To get 3G and 4G connectivity airborne the airlines will need to update the MCA system (Mobile Communications On-board) with the 3G and 4G frequency spectrum bands. The MCA then communicates to ground via a satellite connection.
A vital part of the on-board equipment is the Network Control Unit which works to jam the passengers' mobile devices ensuring they only connect to the Aircraft Base Station (ABS). The ABS is basically an aerial that runs through the passenger areas.
There was no indication of when 3G and 4G connectivity would likely be "live" on a plane but we would imagine we are talking some time away.