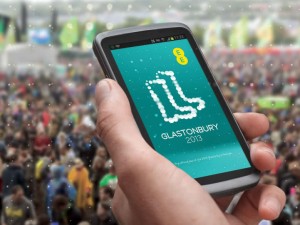 We've already reported on EE's official Glastonbury app. It's an impressive tool with features that will be of use both to festival goers and those who missed out but still want to see and hear some of the bands.
Now the app is even better as EE have just updated it to add new features and functionality. Users can now access full line-up timings for hundreds of acts across Glastonbury's many stages. Not only can you see the timings, you can also create your own personalised schedule of the acts that you want to see over the course of the festival weekend. To make a schedule of your own, simply head into the 'My Planner' section of the app and you should find all the tools you'll need.
Aside from that you can also now see artist information for many of the acts and even hear samples of their music direct from the app, making it easy to discover new artists before the festival so you won't miss out once you're there.
Additionally you can see which of your Facebook friends are also going to the festival (though they too will need the app for this) and if you choose to make your own schedule on the app you can share it with friends.
If you already have the Glastonbury app then to get these new additions you'll need to update it on either Google Play or the Apple App Store depending on what device you're running it on. If you don't already have the app then this latest version is available to download now for free on Android and iOS devices and you don't even have to be an EE customer to get it.
On top of this updated functionality, EE's Glastonbury 2013 app can also be used to view BBC live streams of various performances over the course of the festival weekend. These streams will start to be made available from Friday the 28th of June and will encompass acts on the Pyramid, Other, Park, John Peel, West Holts and BBC Introducing stages. Plus there'll also be a roaming camera letting you take in many of the other sights and sounds of the festival.
If you're heading to the festival and are on EE's 4G network then you'll be able to stream this content seamlessly on site, as EE have equipped the site with 4G infrastructure. Quite why you'd want to watch acts on your phone rather than actually go and see them when you're already at the festival we're not sure, but that 4G infrastructure does presumably mean that other internet use - such as checking emails and Facebook, will be made a lot faster too for users of 4GEE, while everyone else may struggle to even get much of a signal.
The Glastonbury 2013 app for Android requires Android 2.3.3 or above, while the iOS version requires iOS 6 or later and is compatible with the iPhone 3GS, iPhone 4, iPhone 4S, iPhone 5, 3rd, 4th and 5th generation iPod Touch and the iPad.