Swap Your 4G Phone Much Sooner With EE Swap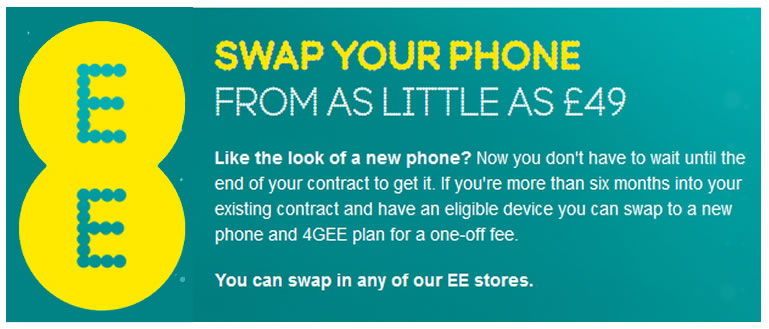 EE has announced a new scheme called 'Swap', which allows customers on pay monthly contracts to upgrade early to a new phone. It's available to customers who are at least 6 months into an 18 or 24 month 4GEE, Orange or T-Mobile contract.
Customers who want to take advantage of 'Swap' can simply head to an EE store, return their existing phone, pay a one off fee and come away with a shiny new handset on a new 24 month 4GEE plan.
Not only is it a way to make sure you always have the latest and greatest smartphone, but for T-Mobile and Orange customers it's also a handy way to get access to 4G before their contract is up.
'Swap' plans will be available from the 17th of September and come in 4 flavours. There's a £36 a month plan which includes 1.5GB of data and carries a one off charge of £249, a £41 a month plan which comes with 2GB of data and has a one off £199 charge, a £46 per month plan with 10GB of data and a £129 charge or a £51 per month plan with 20GB of data and a £49 charge. All of the plans also include unlimited minutes and texts.
Currently you can only use the scheme if you have an iPhone 5, Samsung Galaxy S3, Samsung Galaxy S4, Samsung Galaxy Note 2 or HTC One and it has to be in good condition. However you'll be able to swap your handset for any device in EE's 4G range, so you needn't be lumbered with something inferior.
Right now that mostly makes it useful for customers who don't already have 4G, since swapping one high end phone for another at a steep cost doesn't sound all that appealing.