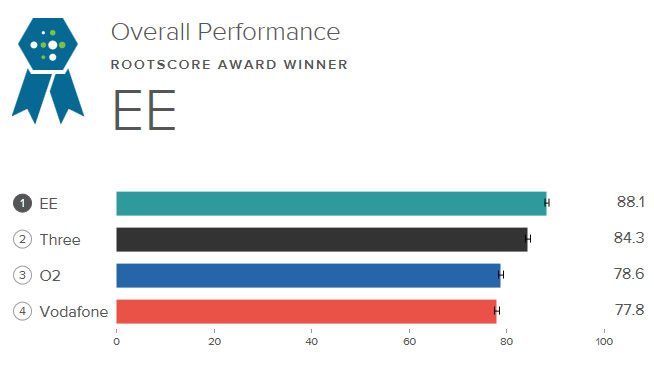 There's no stopping EE, despite O2, Vodafone and Three all making a big 4G push this year, EE has still been rated the top overall UK network by RootMetrics for the second time in a row, following impressive results on call quality from an Ofcom report.
EE came out in first place for overall network performance, network speed, mobile internet performance, call performance and text performance, while it came joint first with Three for network reliability. RootMetrics collected over 920,000 test samples while driving more than 25,000 miles across a variety of locations, including carrying out tests in over 1,200 indoor areas, so its results should be fairly accurate and take into account both urban and rural areas.
It's no surprise really that EE came out on top. EE already has 4G coverage for more than 73% of the UK population, including 250 towns and cities.
But as well as continually expanding its 4G coverage the network has invested over £275 million this year in upgrading 2G equipment and increasing capacity on 3G sites, to improve call quality and capacity. Some of the money also went towards trials of VoLTE (voice over 4G) and Wi-Fi calling, which are both on the horizon as core features of the network.
EE hasn't neglected rural areas either, as it aims to bring 4G to 3.5 million more people across over 2,500 small towns and villages.
Olaf Swantee, CEO at EE, said: "Today's results, along with last week's report from Ofcom, show that EE is providing the best mobile experience to businesses and consumers across the UK. We continue to invest to ensure that customers here have access to a world-leading network, setting new standards for performance and reliability. We welcome the most rigorous independent testing of mobile networks, and it's great to see ongoing investment is improving quality and coverage for people, no matter where they are in the country."
Looking ahead to next year it seems likely that EE will retain its top spot for a third time running if it keeps up this momentum. By then it should have fairly comprehensive 4G coverage and the network has already announced that it's not stopping there. For example by the end of 2014 it aims to have double speed 4G in 40 towns and cities, doubling the current number of locations where it's available.
The network is also trialling LTE-Advanced and by quarter one or quarter two of next year EE aims to have LTE-A with speeds of up to 300Mbps covering London.
That's not to say that there's no competition. While EE claimed victory in these RootMetrics tests Three was a close second in a lot of categories and all the networks are going to continue to grow and improve, but EE has a substantial lead overall and ambitious plans, so for the next year at least we think it's going to keep its top spot.
Looking to find out more about EE's 4G coverage?