Festival goers to benefit from EE's 4G technology for an easier life...
EE will be the official technology and communications partner to Glastonbury Festival 2014. This follows on from a successful partnership at last year's Glastonbury Festival.
Festival goers will see much more being offered by EE this year. There will be a dedicated 4G network on site and an EE Festival Power Bar (above) – while last year's Glastonbury app and the "Recharge Tent" will continue. The app includes : performance scheduling tools, an interactive map and social integration and is free to download on iOS and Android handsets.
Festival goers on EE will be the lucky ones to benefit from the Festival Power Bar – a portable mobile phone charger – which costs £20. The Power Bar will give 5 hours of battery life and can be exchanged at the Festival Power Bar for another fully charged Power Bar, as many times as you like during the Festival.
Even better, you can buy the Power Bar online before the Festival so you are ready to go. Those who don't have a Power Bar can still use the Recharge Tent, first seen at last year's event, but this involves waiting with your smartphone for it to charge, not ideal.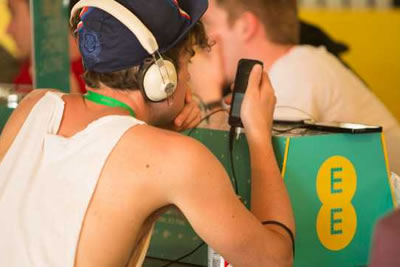 EE will once again supply hundreds of charging points for festival goers, regardless of which network they are on and there will be mobile Wi-Fi hot spots powered by EE's 4G network mobile regardless of which network they are on.
Have you read our 4G network versus article?