[caption id="attachment_2810" align="aligncenter" width="300"]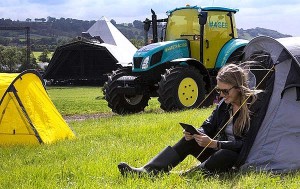 4G Hotsot on a tractor[/caption]
EE are really getting behind this year's Glastonbury festival. As the official communications and technology partner of Glastonbury 2013 they first launched a fairly comprehensive free festival app for smartphone users of all networks and now they're launching the world's 'slowest fastest' 4G hotspot on the festival site.
So why exactly is it the 'slowest fastest'? We hear you ask. Well, because it's attached to a tractor. EE have modified one of Worthy Farms own New Holland eco-friendly tractors, painting it aqua and yellow, splashing the EE logo all over it and more importantly setting it up to provide a super-fast 4G mobile internet connection for users up to 10 metres behind the vehicle.
By virtue of being a tractor it's also mobile, although rather slow (hence 'slowest fastest'), so it won't just be staying in one place all weekend. Instead it will be slowly ploughing across the festival site, so if you're attending this year's Glastonbury keep an eye out for it. Though if you actively want to hunt it out and take EE's 4G service for a spin then keep an eye on the @EE Twitter feed, as it will be regularly updated with the tractors location. How easy it will be to get any sort of internet connection at Glastonbury this year remains to be seen, so having to get online to find the location of a tractor that will let you get online could end up seeming a bit backwards.
Once you find the tractor though its 4G service is available to users of all networks (so not just EE users) and it's free of charge. All you have to do it logon.
This mobile 4G service is reminiscent of the free 4GEE hotspots that EE installed in a number of London and Birmingham taxi's a few months back, though their 4G tractor will be even more temporary, as it will presumably be returned to its original state after the festival weekend so that it can get back to its day job of farm work.
Spencer McHugh, Brand Director at EE commented:
"We couldn't be more excited about this year's Glastonbury where we will be installing the first ever superfast 4G network at a UK festival to help those on site stay connected. Our 4G Tractor demonstrates the innovative approach we're taking to bring the fastest mobile internet speeds to the UK in a uniquely Glastonbury way and uses similar technology to our fleet of 4G cabs trialled earlier this year.  We hope festival goers enjoy logging on to the EE-pimped eco-tractor if they see it over the weekend."
So if you see a green and yellow tractor on Worthy Farm this weekend head on over to it and logon. It might be one of the only places where you can get an internet connection on site and if nothing else it will give you a free taste of EE's super-fast mobile 4G, so you can make an informed decision about whether it's worth your money.