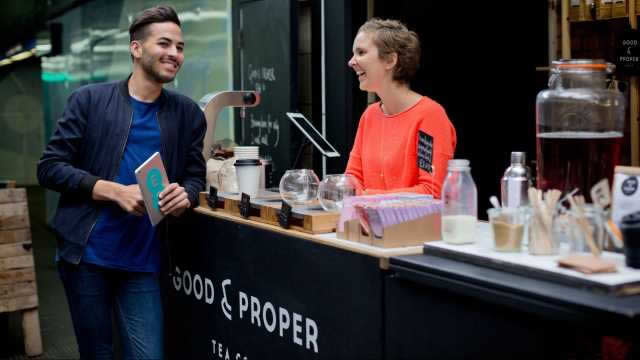 EE's Pop-Up UK campaign aims to help 3,000 entrepreneurs set up pop-up shops over the next 3 years.
The traditional UK retail market may be struggling a little but pop-ups are on the rise. You've likely already come across them, temporary shops, restaurants and stalls that often only stick around for a month or so.
According to a report from EE and economists CEBR, pop-up retail contributes £2.1 billion to the UK economy each year already and the sector is expected to grow by 8.4% over the next year.
Currently around 23,400 people work in pop-up retail across 10,000 shops UK-wide and EE predicts that the industry will grow 2.5 times faster than traditional retail in the next twelve months.
That's if things continue at the rate they're going now, but EE intends to further boost the growth of the pop-up industry. It's doing that by launching the Pop-Up UK initiative in cooperation with the British Retail Consortium and Appear Here (an online pop-up space marketplace), which aims to help 3000 entrepreneurs set up pop-up shops over the next three years.
The initiative includes a 'How to start a pop-up shop' guide, mentoring and advice from EE experts and the founder of Appear Here and a dedicated EE helpline. But EE is a mobile company first so its initiative also includes a specially designed 4G pop-up bundle, which provides pop-ups with an instant 4G connection for 30 days, so they're better able to work from their temporary space without being tied into a long term contract.
The bundle can also optionally include other products, such as the iZettle payment card reader, which allows you to take card payments with your phone, and a Pocket Landline, which provides users with a local landline number that rings straight to your mobile allowing pop-ups to have a local presence while never missing a call.
Mike Tomlinson, Director of Small Business at EE, said: "Small businesses, and pop-ups in particular, face massive barriers and we've launched Pop-Up UK to stoke the fire under Britain's pop-up retail economy. As part of this campaign we've launched the Pop-Up Bundle, the world's first data plan designed specifically to help pop-up retailers overcome the technological barriers they face. Pop-ups can use the power of our 4G network to connect with their customers via social media, take mobile payments, collaborate with suppliers, and securely access all of their important data in the cloud.
"We've worked with a wide range of pop-up entrepreneurs to understand how we can help them achieve their goals. This campaign is built to provide aspiring pop-ups with the instant superfast 4G internet connections, flexible plans and technological hardware they've told us they need. By solving these problems we believe we can really make a difference, which is why we've committed to helping 3,000 pop-up entrepreneurs open shops over the next 3 years as part of the campaign."
Find out more about Pop Up UK from EE here.