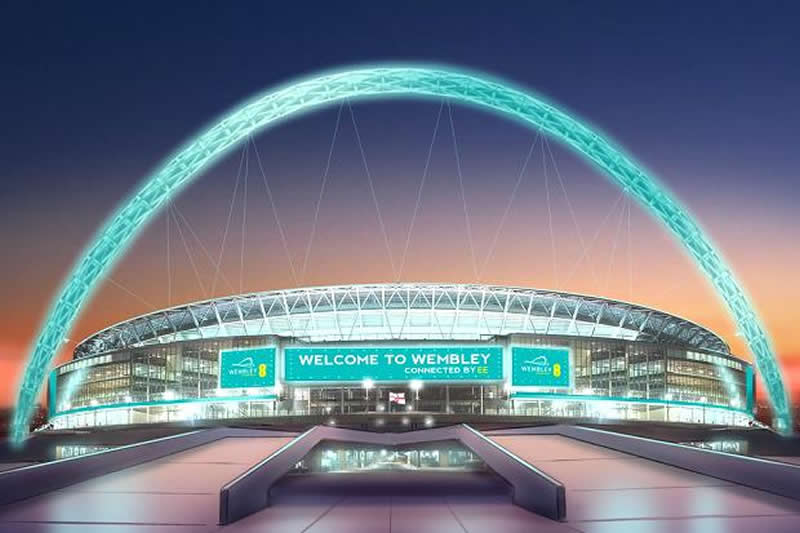 A far reaching multimillion 6 year agreement between EE and Wembley Stadium has been sealed with EE now confirmed as the inaugural lead partner for Wembley Stadium.
EE will help make Wembley Stadium "the most connected stadium in the world" by offering enhanced 4G coverage and WiFI. Mobile payment ticket solutions will be introduced in the future and will interface with the new Wembley App which can be downloaded now.
As is normal with such partnerships, EE's customers will benefit from exclusive ticketing and marketing offers from late March.
The Wembley app is available for free for both Apple and Android devices and brings all you need to know about forthcoming events, news, and stadium and travel information
Olaf Swantee, CEO at EE, said: "We are extremely proud to announce our partnership with Wembley Stadium. At EE, we are always looking for new ways to enhance digital lives across the UK and this ground-breaking deal allows us to extend the same vision and passion to the country's national stadium. Over the coming months, we will announce an exciting programme of upgrades and innovations to the existing infrastructure at Wembley that will ensure the stadium offers visitors a world class spectator experience for many years to come."
Of course, EE is already offering double-speed 4G, which is ten times faster than 3G, in London and trialling quad-speed 4G in the Capital too, with the aim of introducing it before the end of the year. It looks to us here at 4G.co.uk that the football fans will be benefiting from 4G coverage which is 20 times faster than 3G before the end of 2014.
Looking to find out more about 4G in the UK?