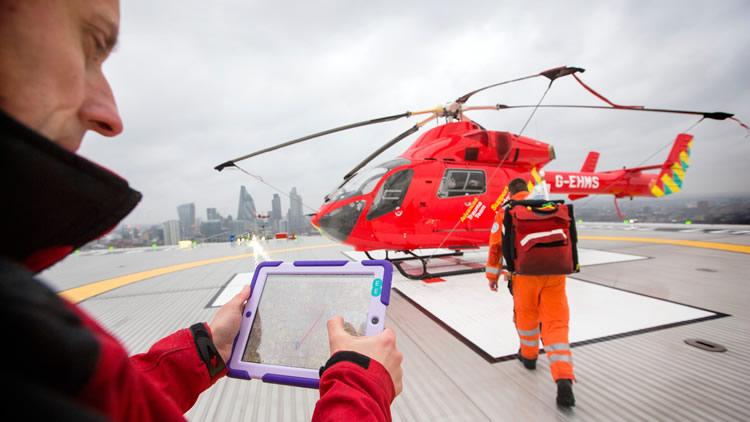 EE helps a number of businesses in a number of ways, but it's going to be hard to top the ways in which it benefits London's Air Ambulance service, which is now better able to conduct truly life-saving work.
London's Air Ambulance uses both a helicopter and rapid response cars in order to rapidly reach and treat patients, who might otherwise not have survived the trip to hospital.
It's important work, but the service has encountered problems slowing it down. When scrambling a helicopter pilots used to have to manually print incident details before taking off, while rapid response vehicles would sometimes lose their satnav signal when around tall buildings.
EE's 4G network is solving both of these problems though with two new initiatives. One is a bespoke mapping app, delivered over 4GEE and designed to improve vehicle navigation, aimed at removing the need for manual and paper-based processes, which are far slower and prone to error.
The other initiative is aimed at speeding up the dispatch time of the helicopter, by removing the need to compile paperwork as instead they can use 4G tablets to get directions, checklists and other information.
These are services which weren't possible on 3G, indeed 3G was once trialled, but "Aside from connectivity problems, 3G simply wasn't fast enough to refresh the mapping system. So the team often had to revert to paper-based maps. Travelling at high speed in a tense, time-critical situation, such factors are compounded" according to Gareth Davies, medical director at London's Air Ambulance.
The time saved by partnering with EE might not be enormous, but these are situations where even a small difference can be the difference between life and death.
"When the medical team arrives the patient may not have a pulse. In such a situation, where every second counts, improving take-off times by minutes will make a huge difference" Davies said.
Alongside its partnership with EE, London's Air Ambulance is also trying to raise funds for a second helicopter, which would allow it to save even more lives. You can help by texting HELICOPTER to 70800 to donate £5.