[caption id="attachment_5926" align="aligncenter" width="397"]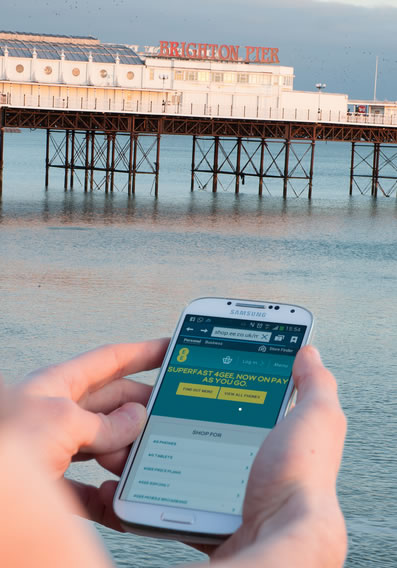 4G is live in Brighton with EE.
[/caption]
EE launched 4G back in October, 2012 and has swiftly brought 4G connectivity to 131 towns and cities to date.
4G offers download speeds of five times faster than 3G, however, in 20 of these cities EE have updated its network to "double speed" 4G offering speeds 10 times faster than 3G.
EE continues to rollout 4G across the country with 10 more towns having just gone live, and another 19 to go live before the end of the year. That will make a total of 160 and means that EE's 4G will cover 60% of the UK population.
The new additions include : Bath, Bournemouth, Brighton, Cambridge, Darlington, Newcastle-under-Lyme, Northampton, Poole Portsmouth and Redcar.
During December the following will be switched on : Aberdeen, Braintree, Cheltenham, Chester, Dundee, Durham, Exeter, Gloucester, Grimsby, Ipswich, Lincoln, Middlesbrough, Norwich, Peterborough, Plymouth, Stoke-on-Trent, Swansea, Swindon and York.
EE commented "With 4G available from £18.99 per month with a free Samsung Android smartphone, and pay as you go deals from just £10 for 1GB of data and 2,014 free voice minutes for the coming year, EE predicts a record-breaking month of 4G sales in the run up to Christmas".
Olaf Swantee, CEO, EE commented "From on-line banking and mobile shopping, to streaming music and using maps, 4G is enabling us to do more of our favourite things quickly and easily on the go. Smartphones and tablets on 4GEE are going to be a very popular present this Christmas as people across the UK continue to embrace mobile living and we make the superfast service available in even more places."
How good is EE's 4G network? Let us know below.