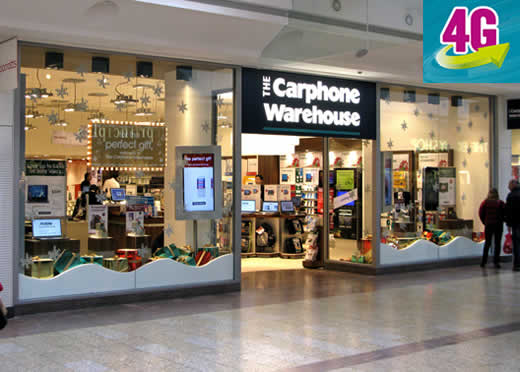 Carphone advise of encouraging progress on 4G sales, with growing penetration...
Carphone Warehouse (CPW) has seen an increase in sales for the 3rd quarter of 2013 of 3.1% on the same period in 2012.
The company say this was aided by an increase in customer demand for 4G mobile but did not say by how much. The company did reveal that 4G phone buyers were willing to pay more for 4G services which are between 5 and ten times faster than 3G. The actual speed increase depends upon which operator you choose and which part of the country you live in.
CPW's Andrew Harrison, CEO, said "As anticipated, postpay volumes remain subdued while the market transitions to 4G. Our new Pin Point selling tool has proved particularly effective in driving the penetration of 4G tariffs and increasing revenue per connection". "We remain focused on our multi-channel customer journey, on driving 4G penetration
It will be interesting to see what CPW report for quarter 4 which includes the Xmas period. Of course CPW is not the only company experiencing 4G growth. EE recently confirmed that it had 2 million 4G subscribers and 4G.co.uk calculated that the mobile operator could hit 5 million by the end of the year.
CPW only offer EE, Vodafone and O2's 4G services and phones as Three decided to stop selling its products via the company.
Looking to find out more about EE's 4G subscriber growth?