[caption id="attachment_486" align="aligncenter" width="177"]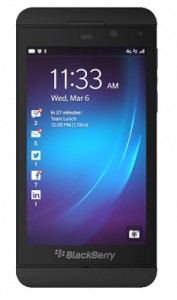 Blackberry Z10[/caption]
At the end of January, Blackberry held a series of press events across the world, when they unveiled their new operating system Blackberry 10 and the two smartphones which would initially run on it, the new Blackberry Z10 and the QWERTY version, the Blackberry Q10 reviewed earlier.
The touch-screen Blackberry Z10 is a premium smartphone designed to compete in the Apple iPhone and Samsung Galaxy arena.
There doesn't appear to be much visually to separate the Blackberry Z10 from its rivals, having a plain black case and screen and very little clutter. The screen is an amazing 4.2 inch touch-screen offering a resolution of 1280 x 720 pixels and a PPI of 356, comfortable beating the Apple iPhone 5's definition.
The Blackberry Z10 is powered by a new 1.5Ghz Dual-Core Snapdragon processor, with 2GB of RAM and 16GB of on board memory, expandable to 64 GB using the provided Micro SD slot. The smartphone runs on the aforementioned Blackberry 10 OS, providing a host of innovative features, making it an ideal choice for business or pleasure. Be sure to read our review here.
There is a 8 MP (mega-pixel) rear facing camera, a 2 MP front-facing fixed focus camera, and inbuilt LED flash. The phone is capable of full 1080p HD video recording for budding Spielbergs.
The Blackberry Z10 connects via 4G, 3G, WiFi, NFC and Bluetooth and is available now from EE, O2, Vodafone, Phones 4u, BT, 3UK and the Carphone Warehouse, but of course if you want to take advantage of 4G your choice is limited (for now) to just EE.