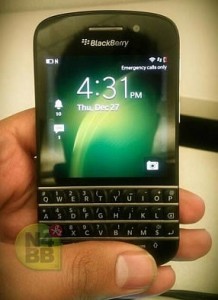 The new Blackberry 10 new operating system will officially be launched on the 30th January at 6 locations around the world and at the same time at least one Blackberry 10 smartphone will be launched, but expect more and there is a remote chance of some news of a Blackberry 10 tablet coming in 2013.
Most sources feel that a minimum of two Blackberry 10 smartphones will be launched at the end of January and one was thought to part of the Blackberry L-Series, a premium model and the other an unnamed QWERTY smartphone. However, new information and photos from n4bb now suggest that the premium model will be known as the Blackberry Z10 and will be available in Black and White.
Blackberry Z10 ( L-Series ) – what's known ?
We know that EE ( which owns Orange and T-Mobile ) will be adding one or a number of Blackberry 10 smartphones to its portfolio after the launch of the Blackberry 10 operating system. We can only wait and see but we predict this will be the Blackberry Z10 heading to EE and will be the first 4G BlackBerry phone in the UK.
Multiple leaks from many sources indicate that the specification for the Blackberry Z10 will come with : Blackberry 10 operating system, 4G connectivity, 4.2 inch touchscreen with a display resolution of 1280 x 720 pixels, a TI OMAP4 processor, 1GB of RAM, 16GB of on-board memory plus an 8 megapixel camera. We expect the Blackberry Z10 to come with Near Field Communication ( NFC ), 3G connectivity as well as 4G, WiFi and Bluetooth.
BlackBerry 10 QWERTY smartphone – what's known ?
We will have to wait a bit longer for details of the BlackBerry 10 QWERTY smartphone which has been rumoured but we will call it the Blackberry Q10 for now and look forward to Blackberry confirming everything at the end of January.