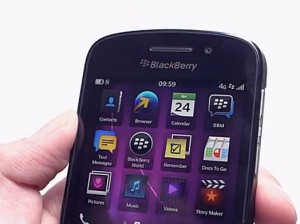 The Blackberry Q10 is one of the latest Blackberry handsets, combining the brand spanking new Blackberry 10 operating system with the QWERTY keyboards that Blackberry are famous for. It's a premium device too, with a 3.1 inch 720 x 720 Super AMOLED display, providing a crystal clear 328 pixels per inch. It's smart and discreetly stylish with a glass weave back, there's 16GB of onboard memory, a micro SD card slot and an 8 megapixel camera. That's all powered by a 1.5 GHz dual-core processor and 2GB of RAM.
It's undeniably a compelling package for fans of Blackberry or QWERTY handsets in general, it's also available now on EE, whose 4G network could make it an even more compelling proposition. It is after all heavily aimed at business users and those who are likely to need to send a lot of emails, both of which could heavily benefit from the blazing fast speeds of 4GEE.
EE have taken the opportunity to highlight some other great aspects of the Blackberry Q10 in the video below.
As you can see from the video the Blackberry Q10 has some inspired features, from being able to set up two different profiles- one for work and one for personal use, to a smart calendar which predicts who you'll want to invite to a given event.
There's also 'Blackberry Hub', which combines all of your email accounts and social network feeds into a single list, ensuring that you never miss a message and can easily stay in touch with colleagues, friends and family.
It supports video calls through 'BBM Video', but it also goes one step further by letting you share your screen with the person you're talking to, which can be used for example to show your location on the built in map.
Despite being mostly aimed at business users there's also a nifty camera feature called 'Time Shift', which lets you fast-forward or reverse an image by a couple of seconds to capture the perfect moment.
The Blackberry Q10 can be purchased from the EE site or stores, with 24 month contract prices starting at £31 a month. That gets you 500MB of data, unlimited calls and unlimited texts, though you'll also need to make a one off payment of £249.99 for the handset. If that's a bit steep or you need more data you can drop the price of the handset to just £29.99 if you take out a £51 a month contract. That will also give you 5GB of data, along with unlimited calls and texts.
Of course there other plans in between and if you can make do without 4G for now then you can also get the Blackberry Q10 on other networks. For example O2 have it free from £42 a month and Three will sell you the handset for just £49 if you take out a £35 a month contract. They also promise to upgrade you to 4G at no extra cost as soon as it's available. Whatever option you choose the Blackberry Q10 looks to be one of the best business phones money can buy.