[caption id="attachment_484" align="aligncenter" width="243"]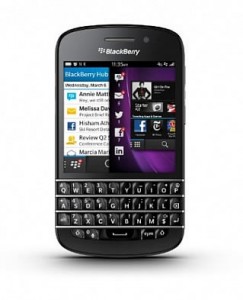 Blackberry Q10[/caption]
The Blackberry Q10 is Blackberry's newest QWERTY smartphone, launched to run on the new Blackberry 10 platform which we reviewed earlier.
Blackberry have been holding a series of worldwide press conferences to showcase the new operating system and reveal the first two phones to use it – the Blackberry Q10 and the Blackberry Z10 touch-screen smartphone.
Formerly known as the Blackberry X10, the Blackberry Q10 will pander to the foibles of traditional Blackberry fans, with a full QWERTY keyboard and square touchscreen. The screen is 3.1 inches square and typical of many QWERTY mobile phones, gives a 1:1 aspect ratio and a resolution of 720 x 720 pixels.
The Blackberry Q10 has a 1.5Ghz Dual-Core processor with 2GB of RAM and 16GB of onboard memory, fully expandable using the available Mini SD slot. The smartphone will support WiFi, Bluetooth and NFC connectivity. The Blackberry Q10 also has an 8 mega-pixel rear-facing camera.
Better still is that the Blackberry Q10 will operate on 4G and will be available from EE, so far the UK's only 4G provider.
4G connectivity, the Blackberry 10 platform and a QWERTY keyboard will certainly be a winning combination for Blackberry fans, enabling gaming, videos, social interactivity and business use with relative ease. BlackBerry Balance will enable a clean switch from business to personal preferences on the smartphone, great for those who actually see an end to their working day and have time to socialise.
We're unsure of a final launch date for the Blackberry Q10. Both the Q10 and the Blackberry Z10 were unveiled simultaneously, and the Blackberry Z10 is already out, available from 31st January. We can't see the Blackberry Q10 being too far behind.
We'll keep you up to date with any news we get on the whole Blackberry event, and offer further reviews of the Blackberry 10 range of smartphones as news is released.