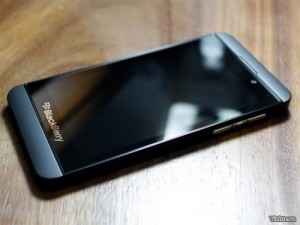 Things are hotting up in the world of BlackBerry as we await the arrival of the new BlackBerry 10 ( BB10 ) operating system. So far we know that BB10 will be officially launched on the 30th January and that one or a number of BlackBerry 10 4G phones will be coming to EE at the same time.
The most likely candidates to be the first BB10 smartphones sold in the UK are the Blackberry L-Series (or London) and the Blackberry N-Series which has a QWERTY keyboard. The latest leak to surface is the arrival of the images shown above and below of the Blackberry L-Series.
Blackberry L-Series – what we can see
The images confirm that the Blackberry L-Series highlight a simple but rather stunning new design and whilst there is no official specification to-date some details can be seen from the photos. It looks to come with a 1800 mAH battery, support for Near Field Communications ( NFC) , support for microSD cards, has a volume rocker control and comes with both micro-USB and micro-HDMI ports.
Blackberry L-Series - previous leaks
Previous leaked information suggests the Blackberry's L-Series will be 4G enabled, have a 4.2 inch touch screen with a display resolution of 1280 x 720 pixels. The processing power is rumoured to be via a TI OMAP4 processor, 1GB of RAM, 16GB of memory and the snapper will be 8 megapixels. The operating system is of course BlackBerry 10 and more details on this can be found here.
4G.co.uk will keep abreast of the BlackBerry 10 developments, the  Blackberry L-Series (or London), the Blackberry N-Series and which BB10 smartphones will be added to EE's 4G phone portfolio.