BlackBerry (formally RIM) officially launched their new BlackBerry 10 platform on 30th January along with two new smartphones, the premium touch-screen BlackBerry Z10 and the QWERTY smartphone known as the BlackBerry Q10. We here at 4G thought you might like to know a little more about the platform, particularly as some see this as BlackBerry's final chance to keep a foothold in the ever developing smartphone market.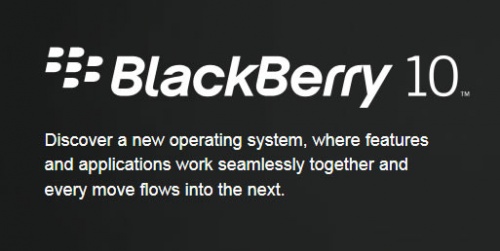 BlackBerry have really suffered over the last couple of years, with major server crashes and the accompanying loss of reputation. Their share price has plummeted, so BlackBerry 10 is massively important to them. Let's see what's on offer:
BlackBerry Hub
When a new operating system is launched it normally means a change of user interface, in this case the aptly named "BlackBerry Hub". The hub is the go-to place for all of your e-mail, Social networks, calendar notifications and BBM messaging. Just a simple swipe from any screen will open a small "peek" window, which can then be expanded to access the particular communication and reply to it, along with other advanced functions.
BlackBerry Flow
BlackBerry Flow is a much needed multi-tasking facility. A simple sweep of the screen will enable smooth switching between tasks while the Blackberry Peek feature still allows you to check your mail whilst in the middle of another application.
BlackBerry Messenger
One of Blackberry's most successful features has undergone an overhaul, allowing video calling for the first time, even internationally at no cost. Blackberry has also introduced screen-sharing, enabling users to view on-screen information on another user's phone – ideal for business users needing to share information, documents or watch demos remotely.
Virtual Keyboard
BlackBerry have improved their keyboard functionality by introducing an "intelligent" touch screen keyboard in the BlackBerry Z10 which will learn from the user, making typing that much faster and more accurate. The software also works with physical keyboards like that found on the new BlackBerry Q10.
Time Shift
If you're fed up taking pictures of people with one eye closed or apparently gurning at the camera, then Blackberry's new Time Shift technology should solve the problem. The camera takes a snap of your subject a split second before the shutter button is fully depressed and another a split second later, effectively "bracketing" the picture you thought you were taking. This ensures that pictures you take will be perfect every time (it says here...). Couple this with the camera's face recognition software, which makes identification of friends and loved ones a breeze, and overall the experience should be much more rewarding than previously.
Story Maker
If you're looking to produce a narrative using pictures, music and/or video clips then Blackberry's Story Maker neatly stitches sections together and allows you to add professional features to the end result, producing an professional, HD quality video for sharing with friends, families or colleagues.
BlackBerry Balance
BlackBerry have realised that users like to keep their business and private lives separate, so have introduced BlackBerry Balance, a facility which allows separate profiles to be set up on the phone. Once the big hand hits the 12 at 5 o'clock you simply switch into "private life mode" (our words, not BlackBerry's) and the troubles of the day will be left behind.
Final thoughts on BlackBerry 10
BlackBerry has had a hard time recently and the confidence of their supporters has been damaged, Nevertheless, this new platform offers a lifeline to BlackBerry via its hard core of business users, arguably BlackBerry's core market. The downside is a serious lack of apps when compared to its two major rivals, Apple and Android, and its lack of backward compatibility with BlackBerry 7.
Overall though, the BlackBerry 10 looks like a potential winner for Blackberry, and the hope is they're remain a viable contender in the smartphone market, providing the actual handsets capture the public's imagination.