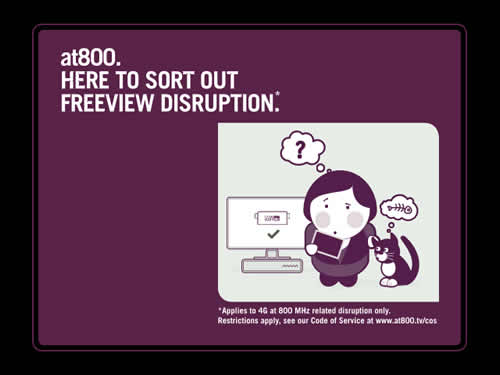 4G is undeniably a good thing, bringing broadband speed data to mobile users nationwide. But one of the frequency bands that 4G uses, the 800 MHz band, can cause disruptions to Freeview services.
at800 is an independent organisation, funded by the UK mobile networks, to ensure that such disruptions are minimal and quickly fixed. It's been doing that ever since 4G first launched on the 800 MHz frequency, but now it's going to be doing an even better job of it.
Having concluded that the disruption to Freeview services will be less widespread than initially thought, at800 is now able to refocus its resources to serve those who actually do need its help. To that end any Freeview viewers who live in a house with its own aerial and find themselves affected by 4G will have their service restored to its previous quality within 10 working days, when previously it would have taken up to 15.
at800 will send an accredited installer to a user's home and if 4G is to blame for Freeview problems a filter will be applied to the TV system at no cost to the viewer. Or if preferred a filter can be sent in the post for the viewer to fit themselves.
at800 will also now offer extra support to properties which use a communal aerial, such as blocks of flats. Free filters will be supplied and at800 will provide technical advice and assistance, even helping with the installation of the filter if necessary.
These service improvements are effective immediately, as according to Ben Roome, CEO of at800: "We've used evidence gathered over the past ten months to assess how best to support viewers whose TV is affected by 4G at 800 MHz The changes we're announcing today will help us provide a better, more effective service."
at800 has already responded to over 175,000 calls from viewers, over 15,000 web enquiries and over 2,700 people on social media. With these changes in place it will be able to respond to and resolve issues faster than ever. So if you're a Freeview user with a 4G mast coming to your area any disruption to your service should be short-lived.
Read more about 4G and Terrestrial TV issues