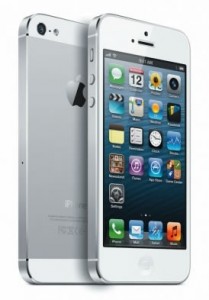 4G phones have been launched for some time in countries like South Korea, Japan and the United States yet until recently Apple hadn't  released any 4G phones at all. Apple launched its first 4G phone – the 4G enabled iPhone 5 – in September with the aim of braking Samsung's dominance of the 4G smartphone market.
The arrival of the 4G enabled iPhone 5 ( see above ) has enabled Apple to secure second position in the 4G smartphone market behind Samsung who has a 26.7% share of the global 4G phone sales.
Samsung retained its pole position with over 40% of the global 4G smartphone market but the arrival of the iPhone 5 has seen a 10% drop in its % advantage (from 50% to 40%). The figures come via analysis from Strategy Analytics and cover the 3rd quarter of 2012.
Other notable 4G phone manufacturers were LG with 9.1% of the 4G smartphone market whilst lower down came Nokia, Sony and HTC.
Next year sees the arrival of the Samsung Galaxy S4 and the iPhone 5S. 4G.co.uk expect to see these two as the highest sellers in 2013 but which will lead at the end of the day is too close for anyone to call. More on this as we enter 2013.