[caption id="attachment_464" align="aligncenter" width="300"]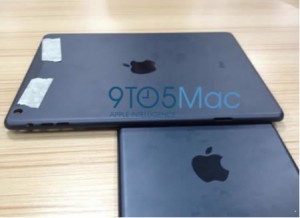 Apple iPad 5 Leaked[/caption]
Later this year should see the launch of the new iPad 5, and new pictures have appeared online. The pictures aren't the greatest quality, and if they're not fakes appear to show the iPad 5 as being virtually identical to the iPad Mini when viewed from the rear, apart of course from the size. Apple have apparently moved away from the high-gloss plastic-looking rear panel to the more elegant slate finish used on the iPad Mini. We'd heard separately that the iPad 5 would have a slimmer profile, and so far the pictures seem to confirm this. Couple this with anticipated new display technology and it should be lighter too.
Apple iPad 5 - What else?
We expect the iPad 5 to use an improved version of the A6X processor which debuted in the iPad 4. With an improved clock speed the new version should provide unmatchable power.
In the area of pure speculation (OK, we've heard rumours) Apple appear to be providing a new Retina display which may even extend to full HD running at 1920 x 1080 pixels, enabling full 1080p video viewing! If this is the case they want to formally confirm the rumours as soon as possible as the new Google Nexus 7, albeit smaller, will also offer 1080p viewing and is likely to launch sooner, pinching a piece of their market.
Apple iPad 5 - When?
Several launch dates have leaked out, along with the rumour that the iPad 5 would be unveiled with the iPad Mini 2 in March, but we suspect that Apple will unveil the new 128GB iPad 4 first and save the iPad 5 for later in the year. We expect the unveiling to take place sometime this summer, with a full launch taking place in the final quarter of 2013.
As ever, 4G will be bringing new truths and rumours as we get them, so keep coming back for more.
Source