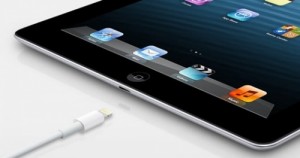 Following the release of Apple's latest financial results investor confidence has dropped, and with it Apple's share price, putting it behind Exon Mobil once again. It seems the public are unsure of Apple's ability to continually innovate following the sad loss of Steve Jobs in 2011.
So welcome to the new 128GB iPad 4, set to launch here in the UK on February 5th. Unfortunately Apple seems to be flying in a holding formation as the new 128GB iPad 4 seems identical to the existing iPad 4 in all but its storage capacity. Read 4G's earlier Apple iPad 4 Review here.
Opinions differ as to its target market, with some believing that the 128GB iPad 4 will only be available for the educational market and others favouring general release. We fall into the latter group and believe it will be generally available to consumers.
But price may well be an issue; the WiFi only 128GB iPad 4 is priced at a whopping £639, while the version supporting 3G & 4G will cost a mind-melting £739! The big question is: will consumers pay for the extra storage in the light of the ease of availability of cloud-based storage solutions?
General Specification of the Apple iPad 4
As we've already said, it's the same specification on the 128GB iPad 4 as it is on the existing iPad 4. This means it comes pre-loaded with iOS 6 and carries Apple's stunning A6X processor, offering twice the handling power of previous processors. It also has a 9.7 inch Retina display offering outstanding resolution of 2048 x 1536 pixels, a 5 mega-pixel rear-facing camera and a front-facing 1.3 mega-pixel camera. In all, an amazing piece of kit.
The question remains though; will consumers stump up the money for the storage upgrade? We're not so sure and expect that Apple will not be seeing this as their saviour just yet.