Offer has now been extended until November 10th!
After a new phone contract? Then you'll definitely want to check out Three's latest offer. The network is offering 4GB of data for the price of 1GB on both handset and SIM-only plans, and the SIM-only option comes in at an especially tempting price.
You can get 4GB of 4G data plus unlimited minutes and unlimited texts for just £9 per month on a Three Essential Plan, where normally you'd only get 1GB of data and 600 minutes for that money – so it's not just the data that's had a huge upgrade.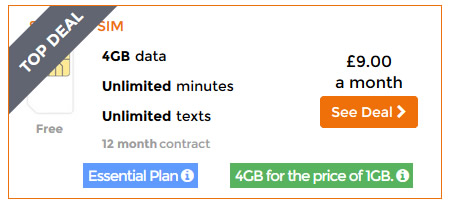 Assuming you're mostly connected to Wi-Fi at home and work 4GB is likely to be more data than you'll even need, so this is a seriously generous allowance for the money.
The plan is 12 months long, so half the length of a smartphone tariff, giving you more flexibility – though if you fancy a new phone too it's worth checking out the same offer on handset plans, as you can still get a great deal.
But if you're happy to hold on to your current smartphone then £9 per month for all of that is one of the best deals you'll likely come across, and should be workable even if you're a fairly heavy data user.
This is a limited time offer, though Three hasn't announced when it will be ending, so you might want to put an order in fast if you don't want to risk missing out.
Checkout all SIM only deals here