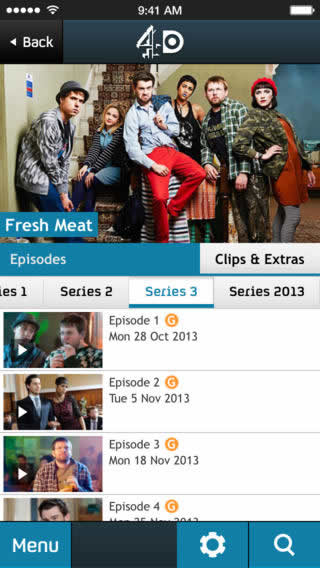 Having superfast 4G data is great, but it's not so useful when things don't support it. Until now that was the case with the 4oD app, a service which lets you catch up on all the best Channel 4, E4 and More 4 programmes from your iPhone or iPad.
Having 4oD on your mobile seems like a great idea, but the whole point of a mobile is that it's, well, mobile, so if you can only enjoy 4oD with a Wi-Fi connection then you'll mostly only be using it at home anyway, in which case you've probably got a TV that you could just as easily be watching it on.
But now with 3G and 4G support 4oD has become as mobile as your phone. You can catch up on Hollyoaks on the train or watch an entire series of Green Wing from the pub and really put your data limit to the test.
This is what 4G is all about and the more services which let us take advantage of it like this the more useful it becomes.
In all 4oD gives you the ability to catch up on shows broadcast in the last 30 days, as well as giving you access to dozens of series box sets, hundreds of clips and extras from its shows and original Channel 4 shorts. If you know you're going to be abroad or somewhere with no internet connection of any kind you can also download programmes in advance, so you need never be cut off from your Made in Chelsea fix.
The 4oD app is totally free of charge so if you don't have it already now's the time to download it. Unfortunately this update which allows mobile streaming is only currently available for the iOS version, so Android users are still stuck with Wi-Fi, but we'd imagine that won't be the case for too much longer.