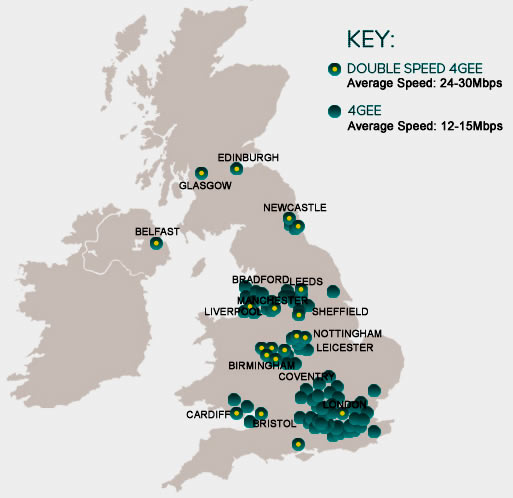 EE's 4G coverage seems to spread further by the day and now 12 more towns have been covered by the networks super fast service. Those twelve towns are Ashby-de-la-Zouch, Beaconsfield, Blackburn, Burton upon Trent, Coalville, Chester-le-Street, Fleet, Gerrards Cross, Halifax, Hinckley, Houghton-le-Spring and Reigate, which bring the total up to 120 towns and cities across the UK.
You can  read 4G's full EE 4G Network Summary here.
That, by extension, amounts to the homes and businesses of over 60% of the UK population, a feat which EE has achieved in just 11 months.
It seems as though most of the largest towns and cities must now have 4GEE, which if anything will just make EE's continued expansion seem even faster, as bringing 4G to smaller places will presumably be a lot less work.
EE claims to be on target to bringing 4G to 98% of the UK population by the end of 2014 and on this evidence that's not hard to believe.
Olaf Swantee, Chief Executive Officer, EE, said: "The whole country is excited about 4G, and today we're making the UK's fastest 4G network available to people and businesses in even more towns around the UK. The latest mobile devices are best on 4G, and we're switching on that superfast experience in more places before the end of the year, making it accessible to even more people."
Even with Three's all-you-can-eat data and generous prices it's getting to the point where it's hard to believe that EE will have much to worry about, at least for the next couple of years, given how far ahead it is of Three, O2 and Vodafone.
There still seems to be a somewhat justified perception from a lot of people that 4G is too expensive, but EE's increasing coverage is making 4G ever more valuable.