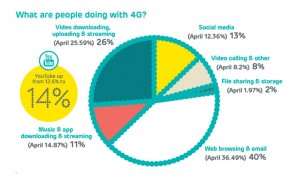 EE has just released the first ever '4GEE Mobile Living Index'- a study which combines statistics from EE's 4G network and survey's of their 4G customers. The resulting data reveals some interesting information about the uptake of 4G and the ways in which it's used in comparison to 3G.
It seems that customers use 4G for things that they didn't really use 3G for. For example EE found that one in three users stream more video over 4G than they did over 3G. EE also found that 71% of customers shop online on their 4G device and interestingly discovered that men were three times more likely than women to spend over £200 a month.
Indeed, as Fotis Karonis, Chief Technology Officer at EE said: "A large proportion of activity on our 3G network is web browsing. But on 4G customers enjoy traditionally fixed line activities such as shopping, watching movies and catching up with TV on their mobiles. It is a real evolution, with a quarter of our customers now spending more than three hours a day on the mobile internet."
In fact almost 50% of 4GEE customers say they browse the web more on 4G than they did on 3G, while over one in three also use GPS, download apps and use social media sites more on 4G than 3G.
Surprisingly 43% of those surveyed even claim to use fewer or no public Wi-Fi hotspots since making the move to 4G and 23% of customers even use their home broadband less. Admittedly public Wi-Fi isn't always that fast and many people still have slow home broadband too (though we wouldn't think anyone spending money on 4G is likely to be settling for a slow connection at home), but even if their 4G is faster it's subject to strict data limits, so it seems strange that people would use it when they don't have to.
Other information picked up by the 4GEE Mobile Living Index include the fact that while men were the main early adopters of 4G, women now make up nearly half of EE's 4G user base. Apparently 4G users are also on average 5 years younger than 3G users. It seems that 4G users also care a lot about portable media as 49% of them own a tablet as well as a smartphone.
EE also revealed that video downloading, streaming and uploading accounts for 26% of their 4G traffic and much of that is down to YouTube which accounts for 14% on its own. Streaming is at its highest during morning and evening commutes, at lunchtime and during late evening when most people have finished work.
You can read the full 4GEE study here
Pippa Dunn, Chief Marketing Officer, Consumer at EE said of these revelations: "The way our 4GEE customers are using their mobiles and tablets has evolved significantly since we brought superfast 4G to the UK just ten months ago.
"EE's introduction of 4G to Britain is giving customers new flexibility and independence. It lets them share more, stream more, and spend more while on the move.
"EE's 4G coverage now reaches nearly 60% of the UK. We are entering a new digital era, the era of the 'always online' generation."
You may also like to read : 4G Smartphones Expected to Replace Fixed Broadband Lines.