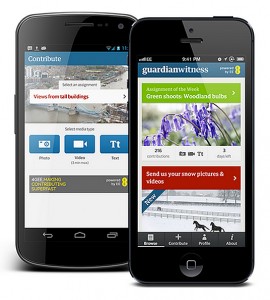 The Guardian and EE have launched an exciting new website and app called GuardianWitness. Essentially it's designed to turn the whole world into reporters and let anyone break a story. Simply download the GuardianWitness app and then anytime you come across a story that needs to be told or news that needs to be broken simply take a picture, shoot a video or write it down and then upload it to the app.
Once a story has been uploaded it will be reviewed by the team behind the app and assuming it's a genuine news story it will then be published on the GuardianWitness app and website. Better yet the best stories could even make it on to the main Guardian website or into the Guardian or Observer newspapers. If it catches on it could be empowering for many people and will hopefully lead to stories that would never otherwise be told.
It's an endeavour powered by EE so they have an interest in how it turns out, but more than that, if you have a 4GEE contract then by leveraging the power of 4G you'll be able to get even more out of it as you'll be able to upload images and videos faster than ever when away from a Wi-Fi connection, and let's face it, most of the best stories probably don't happen at home or even in the vicinity of a public Wi-Fi network.
You'll also be able to view videos and photos that others have uploaded to the app a lot faster on 4G.
Even if you're on another network you can still get the app, but until the other networks launch their 4G services you'll likely find that it'll take a while longer to share your story. The GuardianWitness app is available for download now on both Android and iOS.