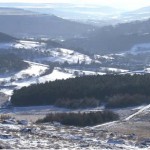 We can't help but be impressed with EE's 4G roll-out across the UK. Starting from nothing just a few months ago they've already brought coverage to dozens of towns and cities, while barely a week goes by without an update about coverage in new areas.
Of course it's very much in their benefit to bring 4G to the UK as fast as possible, since come summer O2, Vodafone and Three will start launching their own 4G networks and the last thing EE wants is for any of them to provide coverage to an area that EE doesn't already cover. While it's incredibly unlikely that EE's 4GEE service will be available in 100% of the UK before the other networks get in on the act they're certainly making the most of their head start.
EE's latest update is all the more impressive because it's not a major metropolitan centre that they've brought 4G to, or even a mid-sized town, but rural Cumbria. Residents of the Northern Fells (one of the UK's least built up areas) will have access to high speed internet for the first time as it's an area that for the most part doesn't even have access to fibre optic broadband.
They actually started trialling 4G broadband in Cumbria last year, so it's been in the works for a while, but soon EE's 4G service will be making a full launch in Cumbria and will be available to homes and businesses throughout the region. EE promise consistent average wireless 4G broadband speeds of between 8-12 Mbps for both uploads and downloads, while some areas will receive speeds of over 20 Mbps.
EE's mobile broadband will be available on a number of different plans starting at £15.99 a month and will cover 100 square miles and roughly 84% of the Northern Fells population by summer 2013. So it's hardly total coverage but it's a great start. In addition to their existing mobile broadband plans EE have stated that they will "evaluate usage and behaviour to potentially develop other plans specific to rural customers."
Rory Stewart, MP for Penrith and Borders is certainly excited by the roll-out, commenting that "this is a major step forward for my constituents. Superfast broadband is making a massive difference to the way that people live their lives and do business. The 4G trial that started last year has already made a substantial difference to people in the Northern Fells community, and it is a hugely positive step to see this being moved to a full launch over the coming months. EE is a great British business that is investing in sharing the power of connectivity with citizens living in some of the most remote parts of the UK."
It's an important step because it shows a commitment to a part of the UK that has long been technologically neglected. While this is obviously big news for Cumbrian offices it's also going to provide a huge boost to homes, particularly since the Northern Fells has the highest concentration of home workers in the UK.