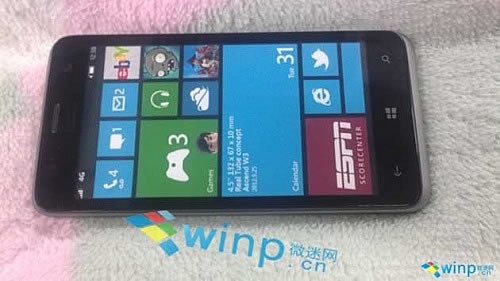 Huawei have entered the 4G phone and 4G mobile broadband network already in the UK. They are currently providing EE ( which owns Orange and T-Mobile ) with the Huawei Ascend P1 4G phone, the E589 4G mobile Wi-Fi device and the E392 4G dongle.
According to news via Chinese website WinP, Huawei are now preparing to launch a 4G Windows 8 smartphone called the Huawei Ascend W3 ( photo above ). Currently, there are a limited number of Windows 8 smartphones ( e.g. the Nokia Lumia 920 and HTC 8X ) so this will be a welcome boost to Microsoft's and Nokia's Windows Phone 8 portfolio.
The 4G Huawei Ascend W3 appears to be a larger version of  the Huawei Ascend W1 which also runs on the Microsoft's Windows Phone 8 platform. The 4G Huawei Ascend W3 is reported to come with a 4.5 inch touch-screen, be 10mm in depth ( overall dimensions 132 x 67 x 10mm ) and have a metallic outer finish. It is also reported to have an 8 megapixel camera.
Looking at the photo above we can clearly see that a 4G signal logo is displayed and this leads us to think the Ascend W3 will go on sale with EE – just like the Huawei Ascend P1.
4G.co.uk will continue to look out for more details for the 4G Huawei Ascend W3 and we expect to see it on sale with EE in the coming months, possibly being confirmed at Mobile World Congress in Barcelona in February.