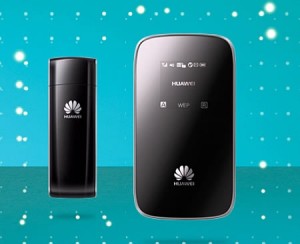 Some 4G customers may not be looking for a 4G phone but may be in the market for a 4G dongle or a Wi-Fi mobile device to work with their laptop, 4G tablet or a Wi-Fi device. So if you live and work in a 4G network service area and really need a 4G dongle or 4G Wi-Fi mobile device ( Mi-Fi in this case ) then EE has included two of these within their 4GEE product portfolio.
The two 4G devices are the Huawei E392 USB modem ( left above ) and the Huawei E589 Mi-Fi device ( right above ). EE say that both these devices are capable of 4G download speeds of between 8 and 10 megabits a second which is five times faster than 3G. All 4G dongle customers also get unlimited free Wi-Fi minutes via BT.
The Huawei E589 Mi-Fi device is set up to work as a "4G hotspot" which then lets the user connect up to five Wi-Fi devices to the 4G mobile internet. EE states the Huawei E589 Mi-Fi device has a battery life of up to 10 hours and will be compatible with around 95 percent of the currently available Wi-Fi devices.
The Huawei E392 USB modem comes with packages of 2GB, 3GB and 5GB with an 18 month contract costing £16 a month for 2GB ( dongle costs £50 ), £21 a month for 3GB ( dongle costs £30 ) and £16 a month for 5GB ( dongle costs £26 ).
The Huawei E589 Mi-Fi device comes with the exact same plans and costs as above.