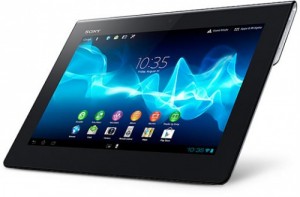 4G phones are being launched in numbers but we have heard little of new and upcoming 4G tablets in the pipeline. In fact, the only real 4G tablets currently available are the iPad, iPad Mini and the Samsung Galaxy Note 10.1. Sony's last tablet that we can recall was the Sony Tablet Xperia S ( photo above ) which was launched in the summer of 2012 but never really took off.
However, a leak from Technology Blogs says that Sony are manufacturing a new 4G tablet with a codename of "Pollux" and a brand name of the Sony Xperia Tablet Z. It is being made for Japanese mobile operator NTT DoCoMo and will be ready to buy in the second quarter of 2013 ( April to June ). The launch in Japan will be followed up with launches in Hong Kong and Europe.
The Sony Xperia Tablet Z  will encompass all the qualities of the new Sony Xperia Z 4G phone so we expect it to have stunning looks, be slim, water resistant and dust-proof. If the display comes with "Dragontail" glass like the Xperia Z 4G phone ( 6 times tougher than Gorilla Glass ) this will make the Sony Xperia Tablet Z a durable and tough cookie. The full specification of the Sony Xperia Z 4G phone here.
The leak for the Sony Xperia Tablet Z  is quite comprehensive with a full specification listed. It will come with 4G connectivity, come loaded with Android Jelly Bean ( Android 4.1. ), a 10.1 Mobile Bravia touchscreen display with a screen resolution of 1920 x 1080 for a Full HD experience on the move.
The mobile processor is leaked to be a a 1.5 Ghz quad-core processor coupled with 2GB of RAM. For a tablet, especially one which is 4G enabled, battery power is of considerable importance, so a 6000 mAH battery is included. The main camera is leaked to be 8.1 megapixels accompanied by a 2 megapixel secondary camera.
That's it for now but 4G.co.uk will be tracking the Sony Xperia Tablet Z  like head-hunters.