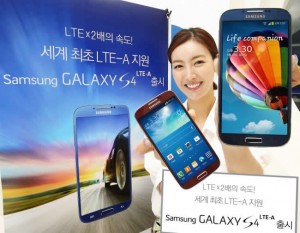 The arrival of 4G in the UK has seen mobile data speeds increase by between five and ten times that of the speed of a 3G network. EE originally launched its 4G mobile network way back in October, 2012 with speeds five times faster than 3G. Within months, EE began upgrading this to speeds of ten times faster than 3G and continue to roll out its 4G mobile network across the UK.
See our article : 4G LTE versus 3G – how much faster ?
The 4G mobile network technology currently launched by EE in the UK, and coming soon via Vodafone and O2, is called 4G LTE. True 4G will arrive in the form of 4G LTE Advanced technology which will bring speeds of 20 times faster than 4G. 4G LTE Advanced is expected to launch in the UK during 2014 via EE.
Currently, only South Korea has a "live" 4G LTE Advanced mobile network and Samsung recently confirmed the arrival of the world's first 4G LTE Advanced smartphone – the Samsung Galaxy S4 4G LTE Advanced.
Read our article : The Next Generation of 4G Arrives in the Samsung Galaxy S4 LTE-A
Ofcom has recently released its "Communications Market Report 2013" in which Ofcom Director, James Thickett stated that "the mass market roll-out of 4G will see smartphones start to replace fixed lines" - as reported by website Mobile News. Thickett also confirmed that "the number of data-only mobile broadband subscribers decreased in 2012, down by 0.1 million to 4.9 million".
An increase in mobile data speeds of 20 times that offered by a 3G network and the arrival of 4G LTE Advanced in 2014 would no doubt give people the opportunity to remove the need for a fixed broadband line by using their 4G smartphone, phablet or tablet with a 4G connection. Ofcom confirmed that nearly 50% of all internet access is currently via mobile devices.
Another rocket to stifle the use of fixed line broadband must be the widespread increase of Wi-Fi coverage and an ever increasing number of hotspots which now include areas where coverage was not possible or not covered via 3G mobile networks.
Taking all the above into account, 3G expects the Ofcom prediction to come true and in a shorter time-scale than we all may imagine.