[caption id="attachment_5916" align="aligncenter" width="600"]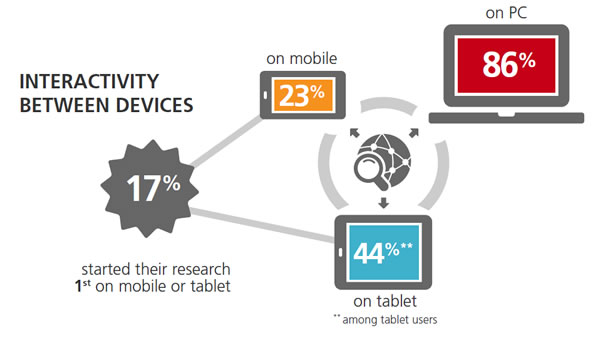 INTERACTIVITYBETWEEN DEVICES
[/caption]
New 4G research commissioned by Orange has looked at the impact 4G networks are having on consumer behaviour.
The research confirms that faster download speed are encouraging us to download more than we have in the past. 30% of those who took part said they regularly download videogames over their mobile device compared to only 17% of 3G users.
Additionally, 53% have bought something via their mobile device over the past 6 months compared to 34% of 3G users.
The mobile device has become the first port of call for consumers to checkout, review products and to compare prices. It was found that 17% then carry on the shopping experience onto another device as shown in the diagram above.
An increasing trend known as 'showrooming' was confirmed with 12% revealing they did this. Showrooming is where you are in a store often in front of the product itself whilst you read online reviews and prices.
The study also confirmed that mobile apps usage was on the increase and the gap between on-line access via apps compared to a browser was just 1%.
"The gap between the two access methods stands at only 1 per cent now in France, with the browser only slightly ahead. This demonstrates the impact of better designed apps for mobile and we can expect that apps will be the predominant access point in the future. This finding will be significant for advertisers and retailers alike" said Orange.
4G is around five times faster than standard 3G. EE has launched "double-speed" 4G in 20 cities and plans to roll out "quad speed" 4G towards the back-end of 2014.
With "quad speed" 4G arriving in the UK in the next 12 months the way we use our mobile devices is certain to escalate at rates which surpass the above.
Useful reading :  EE vs O2 vs Vodafone – Who is Winning the 4G Battle?
Useful reading :  EE 4G Network Summary