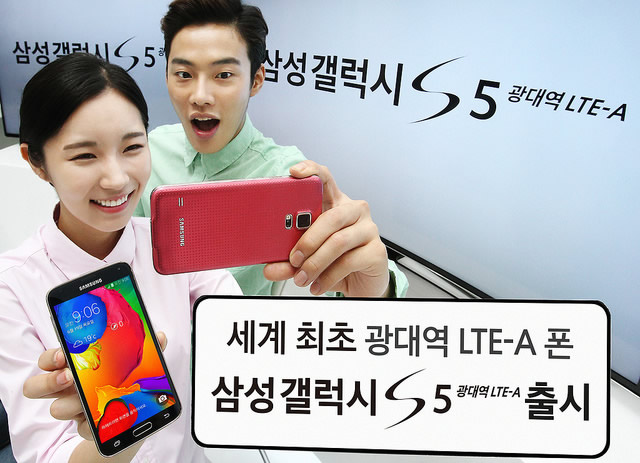 LTE-A aka LTE-Advanced or 4.5G is the next generation of 4G. It's a lot faster than standard 4G, with average speeds of around 42Mbps and theoretical top speeds of around 300Mbps, but not all 4G handsets are compatible with it.
If yours isn't you'll still get normal 4G speeds but you won't get that extra boost and it's a boost that's worth having as it makes your mobile data speeds comparable to fixed line broadband.
This isn't a distant future technology we're talking about either, Vodafone has just announced that it's bringing it to London, Birmingham and Manchester starting this month, while EE plans to have widespread coverage across London by the second quarter of 2015. So it's worth making sure your handset is compatible now and if you're due an upgrade then you should certainly aim for a 4G LTE-A phone.
The good news is that a number of handsets are starting to support LTE-A and more will be arriving all the time. If you want to get one right now this is what you need to know.
Categories
There are different equipment categories which are defined based on the maximum data speed they support. Most smartphones at the moment are category 3 (commonly written as Cat 3). That theoretically supports download speeds of up to around 100Mbps, which is not bad and perfectly adequate for standard 4G, but if you want to get the most out of LTE-A then you'll need a phone which supports at least Cat 4 (for theoretical speeds of up to around 150Mbps), or better yet Category 5, 6 or 7, each of which support up to around 300Mbps.
In practice most phones above Cat 3 are either Cat 4 or Cat 6, so that's what you'll want to keep an eye out for.
Cat 6 phones
If you want one of the most 4G future-proofed phones available then your options are exceedingly limited right now. The Samsung Galaxy Note Edge is Cat 6, so it theoretically supports download speeds of up to 300Mbps and upload speeds of up to 50Mbps.
The Samsung Galaxy S5 LTE-A and the new new Samsung Galaxy s5 Plus are also Cat 6, as is the Huawei Ascend Mate 7, the 32GB version of the LG G3 and the Huawei Honor 6, along with a few other regional variations of handsets, such as the Asian version of the Galaxy Note 4. As you might have gathered though not many of these phones are readily available in the UK right now.
The Google Nexus 6 might present an easier option, we say might because it's not yet clear whether it's Cat 4 or Cat 6. The Snapdragon 805 processor it's running is capable of supporting Cat 6 and pre-release rumours pegged it as a Cat 6 device, but Google is yet to confirm one way or the other.
Cat 4 phones
Quite a few new handsets support Cat 4 4G, meaning they're theoretically capable of download speeds of up to 150Mbps and upload speeds of up to 50Mbps.
The iPhone 6, iPhone 6 Plus, Samsung Galaxy Alpha, Samsung Galaxy Note 4, Samsung Galaxy Note 3, LG G3 (16GB), Sony Xperia Z3, Sony Xperia Z3 Compact, Sony Xperia Z2, Sony Xperia Z1, Sony Xperia Z1 Compact, HTC One M8, HTC Desire Eye, HTC One E8, HTC One Mini 2, Samsung Galaxy S5 Mini, LG G2, Oneplus One, Google Nexus 5, Sony Xperia Z Ultra, Huawei Ascend P2, Nokia Lumia 930, Nokia Lumia 830 and Nokia Lumia 1520 all support it.
Which notable handsets don't support LTE-A?
If a phone isn't on either of the above two lists then chances are that it doesn't support LTE-A of any form and few handsets more than around a year old do. Notable handsets which don't support LTE-A include the iPhone 5S, iPhone 5C and below, HTC One and below, Samsung Galaxy S4 and below, Nokia Lumia 1020, Motorola Moto G, Nexus 4 and Sony Xperia Z.
Looking to find out more about 4G LTE Advanced?