[caption id="attachment_227" align="aligncenter" width="300"]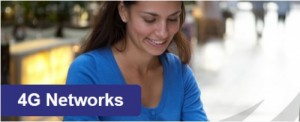 A new type of 4G LTE network has launched in the UK.[/caption]
The UK's first 4G wireless network has launched but it's a bit of a surprise. A subsidiary of UK Broadband called Now Broadband has launched a 4G wireless network in 3 cities : Swindon, Reading and Southwark. UK Broadband holds a 3.5 GHz UK nationwide licence for this type of 4G network service so we here at 4G foresee a larger roll-out perhaps even nationally.
The 4G wireless internet service is being offered to both homes and businesses in the above cities and does not use a phone line and can be classed as a "fixed 4G wireless service". The 4G wireless internet is transmitted to a router in the home or business premises. It should be noted that the "fixed 4G wireless service" does not offer a mobile phone service but simply a fast 4G wireless internet connection.
The new 4G wireless internet service offers download speeds of up to 40 megabytes per second which puts it in direct competition with all fixed line broadband suppliers operating in Swindon, Reading and Southwark.
The new 4G LTE wireless service is provided by Huawei's 3.5GHz TD-LTE ( Time Division – Long Term Evolution ) network equipment. The router in the home or business premises will connect wirelessly to the 4G wireless network and the router provides a Wi-Fi connection.
Now Broadband are offering 4G LTE fixed wireless internet access with prices starting at £21.50 a month and the good news about this pricing is that there is no telephone or fibre optic line rental as a phone line is not required.
"In terms of business benefits, this service can either be the primary super fast Internet connection, or provide the secondary or resilient connection to ensure that local businesses and organisations are connected at all times," said Nicholas James, CEO of Now Broadband.
4G will keep a keen eye on this 4G development and see no reason why this should not take off.