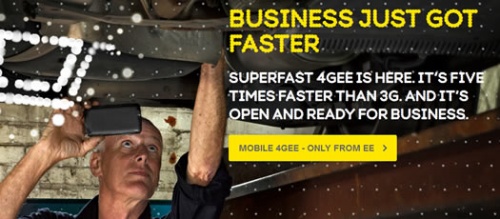 EE were first out of the gate with 4G (or 4GEE as their service is called), having launched on October 30th of last year- well before other companies were even able to bid on the technology. In that time EE have done everything in their power to secure a large lead, expanding into more and more cities.
But as well as increased coverage, EE are also convincing big businesses to give 4G a try and with positive results.  They've already got numerous companies on board, including Microsoft, Gatwick Airport, Morrisons, Foxtons, Addison Lee, Sony Music, Kier, TNT Post, Urban Outfitters and NHS Glasgow and Clyde.
Many of these companies are only trialling the technology for now, for example Microsoft is testing whether it allows their mobile workforce to be more productive, while Addison Lee is trying it out in their taxi's, allowing customers access to a super fast internet service on the move.
But while it's still early days it seems likely that it will take off, as internationally 4G has been around for a while and has received a lot of positive feedback. Companies in Europe, Japan and the US have reported that 4G is saving them both time and money, as well as helping them become increasingly innovative.
86% of 4G enabled companies in the US report that they've saved an average of 33 hours a week, with many of these companies using the technology to back up their work remotely and make use of unified communications.
EE will soon have competition from the other networks, but despite that they don't look in any danger of losing steam. They've invested £1.5 billion into 4G and as a result of that the service is already available to a third of the population.  By June 2013 they aim to have rolled 4G out to 65 towns and cities, which should account for more than half of the UK population. That's pretty impressive coverage considering they'll still have only launched 4GEE less than a year ago.
With that increased coverage the technology is going to become increasingly appealing to businesses. Along with the companies that are already trialling 4G, 64% of UK businesses plan to roll it out to their workforce within the next six months, according to a study by Arthur D Little in association with EE.
EE aren't just focussing on big business either, as they report that one in four new customers are small companies signing up to a 4G business plan.
EE have had a pretty easy time of it so far, with literally no competition in the UK, but that's all going to change later this year, and in the case of Three and Vodafone there may be competition sooner rather than later, as the two companies are hoping to use some of their existing frequency spectrum for 4G, much like EE are doing.
Once that happens we'll likely see improved coverage and competitive pricing, which can only help the uptake of 4G, both with consumers and big business.