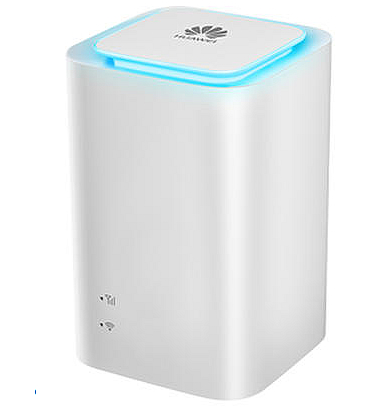 Huawei's Wi-Fi Cube could replace home broadband
While 4G is undoubtedly used in the home already, it's still surely used a lot less than Wi-Fi especially as you can more easily connect multiple devices to Wi-Fi.
There have been various partial solutions offered by 4G, from tethering your phone to other devices, to plugging in a dongle or using a wireless Mi-Fi device, but none of them have been ideal alternatives.
Tethering forces you to use your phones likely quite limited data, dongles can usually only connect to one device at a time and Mi-Fi devices tend to rely on batteries and therefore need regular charging.
But the Huawei Wi-Fi cube solves all of these issues. It's basically like a Mi-Fi device that you plug in, so battery life isn't a problem. It can connect to up to 32 devices over a range of up to 200 metres, so it's also longer range than a Mi-Fi device and can connect to more things, as Mi-Fi devices tend to be capped at around 10 simultaneous connections.
In fact it's essentially just like a Wi-Fi router, except rather than fixed-line broadband you'll be connecting to 4G. Why would you want this instead of fixed-line broadband? Well maybe the broadband in your area still isn't very fast, or maybe this could actually end up cheaper, especially as if you can live without a landline you can also cut line rental out of the equation.
Unfortunately you can't get the Huawei Wi-Fi Cube in England right now. It's just launched in Australia and it's not known whether it will make it to these shores, but there's no reason it couldn't, especially as it already supports the 1800MHz and 2.6GHz frequencies, which are two of the three that we use in the UK.
If it does arrive then you can look forward to download speeds of theoretically up to 150Mbps, as it's a Category 4 LTE device. In practice they'll likely be a lot lower, but still pretty fast.
Plans and prices are likely to differ if and when it lands in the UK, but to give you an idea the Australian prices start at $25 (£13.50) per month for 24 months, for which you get the Wi-Fi Cube with 2.5GB of data. Prices rise to $90 (around £49) per month for the device plus 25GB of data. So it's not cheap, but nor is it extortionate for a full-fledged fixed-line broadband alternative.