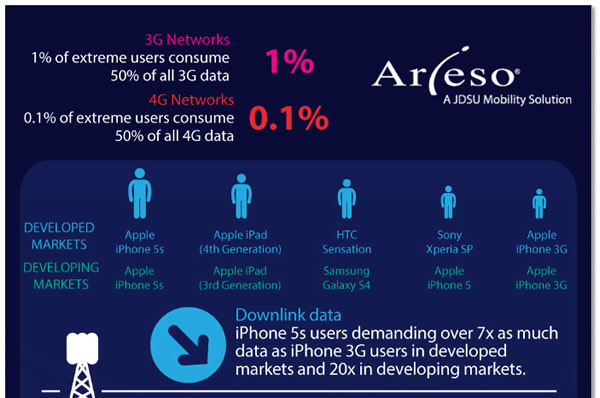 A new study by Arieso has revealed that mobile data use is rapidly rising and that 4G users in particular are driving it.
The study found that just 1% of 3G users are consuming 50% of all 3G data and that a mere 0.1% of 4G users are consuming over 50% of 4G data, suggesting an extreme gulf in both cases between the average user and those with the biggest hunger for data.
But it also shows that the most data hungry 4G users consume 10 times more data than even the most extreme 3G users. That could be because many of the most data hungry 3G users have now moved on to 4G but whatever the reason, it shows, if proof were needed, that 4G really is driving data demands upwards, which in turn is probably because 4G data is so much faster than 3G data.
That extra speed is likely to change people's data habits. For example most users are probably not very likely to download an album or stream an HD film over 3G, because the former would take a long time and the latter would have to keep buffering, but on 4G it's perfectly doable. The data changes demonstrate how much better 4G actually is than 3G, but it also shows that networks really need to offer generous data limits or users won't be able to fully take advantage of the increased speeds.
The study also showed that globally iPhone 5S users consume far more data than any other handset in both developed and developing markets, but strangely it found that the HTC Sensation topped the charts for amount of uploaded data in developed markets and the Samsung Galaxy S4 topped it in developing markets, suggesting that while iPhone users download and stream more, Android users are more likely to upload things. See table below and note 100% comparison at foot of table.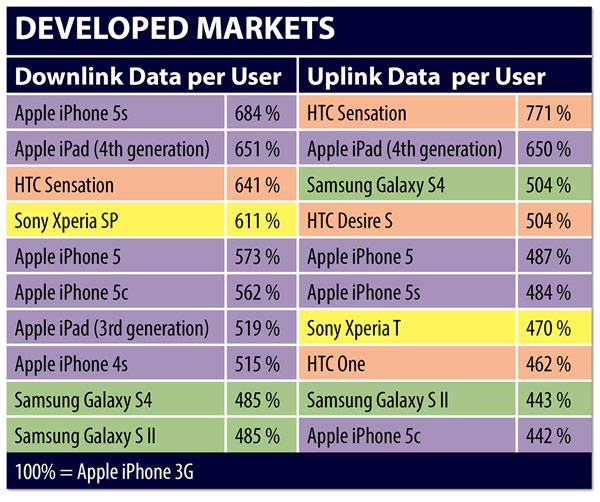 Other trends picked up by the report included the fact that with each new generation of iPhone average data use increases by 20-40%, suggesting a massive overall increase year on year. As 4G takes off more it's not unreasonable to think that the yearly increase might start to get even bigger, which at a certain point could put a strain on mobile networks.
The yearly data increase in developing markets is similarly steep, though overall data use is still somewhat lower.
When it comes to tablets Apple came out on top again, with the fourth generation iPad accounting for more data use than any other tablet (or any phone aside from the iPhone 5S) in developed markets, while the iPad 3 topped the charts in the developing world.
On the other hand, despite its popularity, users of the iPad mini aren't consuming a huge amount of data and indeed lower end devices in general show a lower data use than flagship phones and tablets. There are a number of possible reasons for that, the most obvious being that those with the money to buy a top end product are more serious about their phone and tablet use than lower end buyers and perhaps also have more money to spend on data.
So it's 4G and the top end of the market which are driving data use, while the overall increases along with the extreme demands of a small number of users suggest that the data landscape may drastically change in the coming years, with users perhaps consuming as much mobile data as they do on their home broadband connections. Dr. Michael Flanagan, CTO of Mobility for the Network and Service Enablement business segment of JDSU and author of the study warns of this, saying: "The faster the speeds that mobile operators provide, the more consumers swallow it up and demand more. One would expect a honeymoon period in which early adopters test their toys. But for 4G users to consistently exhibit behaviour 10 times more extreme than 3G users well after launch constitutes a seismic shift in the data landscape. This has important ramifications for future network designs."
The hope is that mobile networks will take notice, because it's clear that consumers want more and the need for data is only going to increase in the coming years. 4G is bringing in a new age which can only be good for consumers, but networks will need to be ready for it.
 Looking to see how each Mobile Operators 4G network rollout is progressing ?