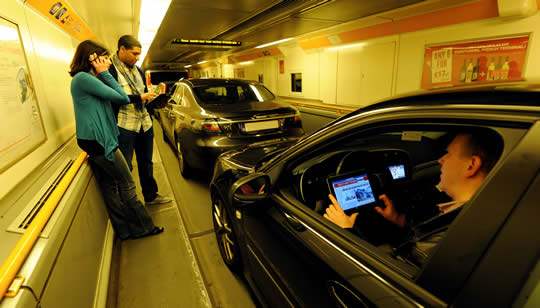 EE to take 4G underground into the Channel Tunnel.
EE will have its 4G mobile service up and running in the channel tunnel this summer. This is great news for the 20 million people who use the Eurotunnel shuttle or Eurostar train every year.
2G and 3G services will go live first in the North Running Tunnel (UK to France) in March 2014 followed by 4G sometime in the Summer. EE will install its own mobile network in the tunnel which can be used by phone and tablet users during the 35 minute journey.
The extra on-line time can be used to prepare for business meetings or to plan holiday trips or just to relax watching streamed movies.
One thing EE didn't comment on was the download speeds that would be experienced inside the tunnel by passengers nor an exact date for the 4G service to go live.
4G think this is another great move from EE and will offer another big plus point for the network over its competition.
"We're proud to offer customers a superfast 4G service when they're travelling from the UK into Europe. It's another technology first for EE, and it's one that will make a big difference to business workers and people going away on holiday. Being connected is such an important part of travelling now and this will be another route we've covered with 4G, making a huge difference to millions of customers who can now make the most of their journey time." Said EE CTO Fotis Karonis.
 Did you know EE could have Million 4G Customers by End of 2014?