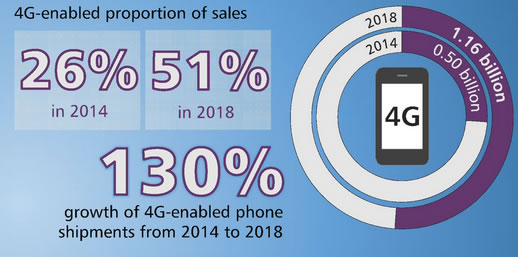 4G phone sales to soar over next 4 years.
If there was any doubt that 4G was going to take off it can be laid to rest now, as CCS Insight has reported that it's being taken up faster than any prior mobile technology.
Global sales of 4G phones are expected to hit 1 billion by 2017, with over half of the 2.3 billion phones sold across the world in 2018 expected to be 4G equipped.
But even now 4G is hugely popular and CCS Insight identifies a couple of different reasons for that. Firstly, the massive Chinese market is proving quick to embrace it, with pre-orders for handsets indicating that 38% of all mobile phones sold in China this year will have 4G and that's despite the fact that Chinese networks only started rolling out the technology in December.
Indeed Marina Koytcheva, director of forecasting at CCS Insight said: "After seeing tremendous growth in smartphone adoption over the past two years, China will become the largest market for 4G-enabled phones as soon as 2014."
4G handsets and plans are also rapidly dropping in price globally. CSS Insight expects 4G phones to drop below 100 Euros in the second half of the year while most networks are expected to remove any extra 4G charges by the end of the year. In fact we're already seeing that on some networks, such as Three, which has a flat rate regardless of whether you're using 3G or 4G.
CSS Insight's report also predicts how the various mobile operating systems are going to fare over the coming years. It expects most of Apple's growth to come from emerging markets, such as China, but it also expects that while Apple's sales will grow its global market share will shrink unless it really shakes things up with the iPhone 6 and iOS 8.
Android meanwhile is expected to continue going strong, as Koytcheva explains that "as Google solidified its partnership with Samsung and distanced itself from mobile phone manufacturing by selling Motorola Mobility to Lenovo, the forces threatening Android from within have been neutralised."
The outlook for Windows Phone is relatively positive too, as abolishing licence fees and the potential for filling in the hole left by BlackBerry's decline could work in its favour.
Looking to find out more about 4G technology?