[caption id="attachment_177" align="aligncenter" width="293"]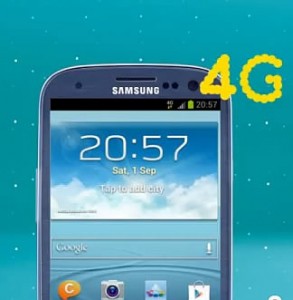 How to find out if you get 4G, 3G or 2G mobile network coverage on your 4G phone.[/caption] 4G has been launched in the UK in 11 cities as of the 30
th
October by EE ( Everything Everywhere – which owns Orange and T-Mobile ). Imagine if you bought a new
4G phone
today from EE, and try to figure out what network you would be connected to ? There are three possibilities 4G, 3G or 2G. There is a huge difference in mobile download speed of course. The 4G phone, 4G tablet or 4G mobile device - which you can only currently buy from EE -needs a quick set-up as shown in the example video above. The example above covers the Samsung Galaxy S3 LTE, but this will be the same for all 4G phones and tablets as it is a network setting as opposed a phone setting. The above set-up is needed to make your first 4G phone call on 4G. Basically, you are setting up the phone to work from the best network signal strength in your area. This could be 2G, 3G or 4G. What network you are actually connected to will be displayed to the left of the signal bar i.e. 2G, 3G or 4G.
4G Phone Service
The only place you can get a 4G network service today is in the 11 cities it has so far launched in and these are Bristol, Birmingham, Cardiff, Edinburgh, Glasgow, Leeds, Liverpool, London, Manchester, Sheffield and Southampton. Then if you live in Belfast, Derby, Hull, Newcastle and Nottingham then EE has promised you 4G before Xmas this year. The average 4G download speeds are between 8 and 10 megabits a second which is, on average, five times faster than 3G.
3G and 2G Phone Service
EE say that they have the largest 3G network in the UK ( via Orange and T-Mobile ) which covers 98% of the country. Move out of a 4G service area and you will be automatically switched onto to the 3G network with its lower 3G mobile internet speeds. The other change will involve something called "latency". Latency on a mobile network causes delays typically in the processing of mobile network data. When connected to the 4G mobile network, latency is as low as 60 milliseconds and when connected to a 3G mobile network is as high as 125 milliseconds. This matters when you are looking to flick through mobile web pages quickly and when playing on-line mobile games. To check which you will likely be connected to there is a 4GEE coverage checker which will confirm if your area is covered by 4G, 3G and 2G. EE have broken these down as follows : 4G = Superfast Internet, 3G = Calls and Internet and 2G = Calls and texts.
4G for the rest of us
If we live and/or work outside a 4G area we may have to wait many months to get 4G. EE are spending nearly £1.5 million pounds each day for the next three years on it's national 4G rollout and aim to connect an extra 2 million people across the UK with 4G each month.