[caption id="attachment_3118" align="aligncenter" width="300"]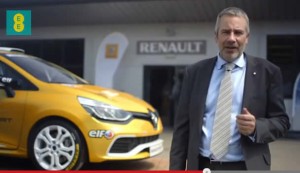 4GEE – Increasing Productivity[/caption]
We all know that EE's 4G service is a lot faster than rival 3G networks - five times faster in fact. That makes it hugely useful for 4GEE business customers whenever they're away from the office and away from a Wi-Fi connection, but it can be hard to quantify just how useful it is.
With that in mind EE have shot a video, showing how 4GEE has helped Gilles Laroche, the Finance Director for Renault UK and Ireland, get more work done. Check it out below.
As you can see from the video, going from using 3G to 4G has made Laroche far more productive. He travels a lot for work so he spends a lot of time in his car or working remotely where there isn't always a Wi-Fi connection available. Having to use 3G for that would lead to much slower speeds and a lot of downtime, but by using 4G he's estimated to have gained an extra 5 hours worth of useable work time a week. That number is set to go up even further once 4G speeds increase - which is something EE are already working on in a lot of areas.
By increasing his productivity it has also made Laroche more available to his colleagues and made his job less stressful.
Laroche holds a senior position at a major company and he found 4G enormously helpful. But he's also one man, demonstrating that whether your company is large or small 4G could be a huge benefit and massively increase your productivity, particularly in roles where a lot of travelling is necessary or just where Wi-Fi isn't always available.
Other examples of 4GEE in action are at London's Air Ambulance, where they claim it has reduced response times by up to two minutes, or at Foxton's, where being able to upload large files on the go has saved them an hour each day. Those are among dozens of other companies, both big and small, that have given positive feedback about the impact 4G has had on their business.
Of course EE are hardly going to publicise any negative feedback, but it's not hard to believe that a network with mobile internet that's up to five times faster than rivals is going to go down well and vastly improve productivity on the move. Not only will things get done faster- but certain things, such as large file downloads would potentially have been pointless to even attempt on 3G. Though it's worth bearing in mind that many areas won't yet receive a 4G signal, particularly out in the countryside, so on those occasions you'll still be stuck with 3G at best like you would on any other network.
Whether you're a sole trader, small business, large company or in the public sector, EE have the infrastructure to support you. Eventually O2, Vodafone and Three will probably be able to offer a similar service and speeds, but for now if you want a high speed mobile office EE are the only real option.