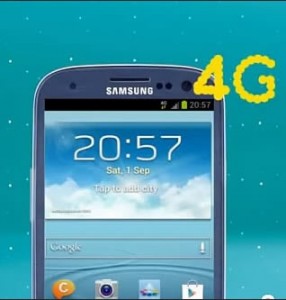 Everyone wants the latest mobile phone or tablet , but some may find making the decision between a 3G or 4G phone this Xmas a rather daunting one. 4G.co.uk will now lay out it's thinking to help you determine if the time is right to buy a 4G phone or tablet or just stay with your trusty old 3G phone or tablet.
3G or 4G | Whats the difference in speed ?
3G technology as you may expect, is the third generation of mobile technology and was first introduced in the UK in 2003 by mobile operator Three. Today all the mobile operators provide 3G mobile services and these have been developed and improved over time to get "the max" out of them. They are pretty "maxed" out these days and the majority of the 3G mobile operators are making one last upgrade to their 3G networks to get the absolute maximum speed and mobile data capacity from their 3G networks via technologies called HSPA and HSPA+. Suffice to say that HSPA+ doubles the speed of some 3G networks and also greatly improve its data carrying capacity.
4G technology is the fourth generation of mobile technology and historically a new technology has emerged every 10 years. 4G technology is based around LTE ( Long Term Evolution ) and LTE-Advanced. 4G LTE will be launched by all mobile operators in the UK and is around five times faster than normal 3G and also has a much greater mobile data carrying capacity. In a few years time , the 4G mobile operators will upgrade the 4G LTE networks to LTE-Advanced and then we will see download speeds of up to 20 times faster than current 3G networks.
A 4G phone being used on a 4G mobile network will undoubtedly work at much faster speeds when surfing mobile web pages, sending email attachments like photos or downloading a HD film onto your 4G phone or 4G tablet. A 1.5GB HD film will take around 2 minutes 30 seconds to download via 4G or 12 minutes 30 seconds via 3G. So it's a no brainer I want 4G….but have a look below first.
3G or 4G | Whats the difference in the mobile networks ?
We see this as a battle between two contenders, one who can be introduced as perhaps an experienced boxing world champion at the height of his career ( Mr 3G ) and a new contender ( Mr 4G ). Mr 3G has been around for 10 years and is known to everyone ( via Vodafone, Orange, T-Mobile, O2 and Three ) whilst the contender is the "new kid on the block" coming in the form of EE ( Everything Everywhere – which owns Orange and T-Mobile ).
Mr 4G is claiming to be faster , but is only in the infancy stage of his career. In this case, infancy applies to the new 4G technology, the company's developing 4G mobile network, its new 4G branding called 4GEE and its customer support arm. The one thing that doesn't really need to be compared between 3G and 4G are the phones and tablets themselves. They are basically the same other than 3G phones are 3G enabled and 4G phones are both 3G and 4G enabled.
Only EE has launched a 4G network in the UK so far. The other potential 4G mobile operators have to bid in the 4G auction currently underway to win a 4G Licence then they can launch their own 4G networks around May 2012.
3G and 4G | Whats the difference in where they work ?
3G has been established for over 10 years and will work virtually anywhere in the UK. If you go with a 3G phone or tablet you know where it will work and if it works for you. That's straightforward.
4G has been launched in the UK for less than 2 months and when a technology like 4G is in its infancy, as it is, there will always be plus points and negative points. The main plus point is that EE have launched 4G in the UK and will have launched it in 18 cities by the end of 2012 and in another 17 towns and cities by the end of March 2013.
Another plus point is that EE are on schedule to roll-out a new mobile technology in the quickest timescale ever. EE have promised to launch 4G to 98% of the UK population by the end of 2014 i.e. within 2 years. 3G took around five years to achieve this level of coverage.
The downside is that 4G is in its infancy. This means by the end of March you will be able to receive a 4G signal in 35 towns and cities but there are 62 cities and over 1000 towns in the UK. When you are in an area where no 4G signal is being received your 4G phone will switchover to 3G at speeds up to five times slower than 4G. Additionally, network coverage in some cities has been independently reviewed with some reviewers reporting that 4G coverage is sketchy. More here. Finally, EE have appeared on Watchdog Daily but these sort of issues seem to be related to new systems and training as opposed to chronic issues. More here.
Another downside for many will be associated with the cost of 4G and also the range of 4G phones and tablets that are currently available. You can currently choose from seven 4G phones and four 4G Tablets. These are mainly premium 4G phones and tablets such as the iPhone 5, Samsung Galaxy S3, iPad and the Samsung Galaxy Note 10.1.
3G and 4G | Whats the difference in cost ?
When buying a new product or service like a 4G phone , which is connected to a new 4G mobile network where no competition exists , you may not be surprised to hear that costs will increase.
To emphasise this we are going to look at the cost of the Samsung Galaxy S3 on both Three and EE - specifically on their monthly plans with the maximum amount of mobile data allowance. The Three deal is on its 3G network with a 3G enabled Galaxy S3 and the EE deal is on its 4G network with a 4G enabled Galaxy S3.
                                                            Three deal                   EE deal
Cost of Galaxy S3 upfront                  £29                              £29
Data Allowance per month                 Unlimited                     8GB
Texts per month                                  5000                            Unlimited
Mobile calls per month                        2000                            Unlimited
Cost per month                                   £36                              £56
We highlight the above as an example as the lower price tariff on EE provides a miserly 500MB for £36 per month with the Samsung Galaxy S3 coming with an upfront fee of £150.
3G or 4G | Our conclusion
Its great that 4G has finally launched in the UK , but 4G is in its infancy and has only one 4G operator currently offering 4G mobile services. The decision to whether an individual takes the plunge now or waits to buy a 4G phone or tablet is very much a personal one , but 4G.co.uk are happy to provide our thoughts as follows.
If you love gadgets and/or are an early-adopter then you will always want the latest new gadget and mobile phone and tablet. So if you are this type of person then we suspect you already own a 4G phone or will get one soon.
If you live in one of the cities where 4G has launched and you are going to use your phone mainly in that city, buying a 4G phone or tablet is a good idea. We recommend you do some checking via the EE 4G signal checker and maybe pop in to the local EE shop and ask about whether the 4G coverage is city-wide or a shade sketchy?
Pricing and the monthly data allowance are the other big issues to consider. Pricing is higher with a 4G contract than a 3G contract yet if you get good 4G signal strengths and download speeds up to five times faster then this may not be such a bad deal. The question of how long your 4G mobile data allowance will last could be a huge turn-off. The 500MB data allowance you receive per month on the lowest tariff will be gobbled up in no time at all and because you are able to download and surf quicker, the tendency will be to do so more often. EE do include free Wi-Fi via BT with all monthly contracts so this helps.
If you live in a city where 4G has not yet launched we see no reason to buy a 4G phone or 4G tablet unless EE say 4G is launching in your area sometime soon. You will simply get 3G download speeds on a 4G network with potentially higher costs and lower mobile data allowances than 3G mobile operators provide.
We hope this helps at this time of the year. Finally, we undertake 4G Phone Reviews of all the 4G phones and 4G tablets on EE so why not check them out !