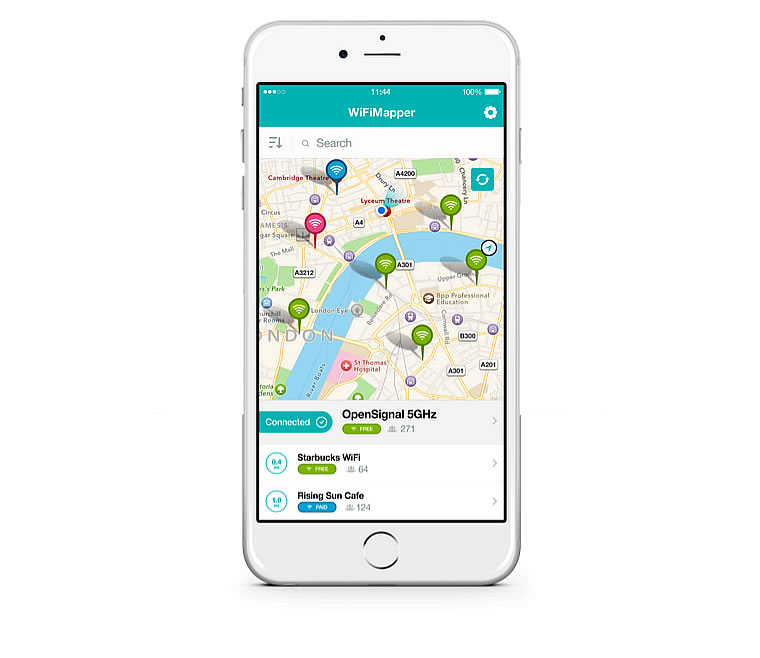 4G is getting faster and more widespread all the time, but coverage varies a lot by network and even on EE, which currently has more widespread coverage than any other UK provider, there are still numerous areas that don't yet have it.
Equally if you're on any network other than Three (which offers unlimited data) you might sometimes find yourself getting dangerously close to your limit and looking for alternate solutions to stay online.
In all these cases Wi-Fi is the obvious answer, but while that's an easy solution when you're at home or work it's not always so simple to get connected when you're out and about.
Thankfully there are a huge number of public Wi-Fi hotspots, but finding one you can use can still be tricky. Head into your phone's Wi-Fi menu in a town centre and you'll likely see dozens of networks, many locked or seemingly open but then requiring a password or payment.
But WiFiMapper aims to make Wi-Fi as simple as it should be. It's an app that's home to a crowdsourced database of over 475 million Wi-Fi hotspots around the world, so it's useful even when you're out of the country.
Just let it find you or enter a location you plan to travel to and you'll see a map and list of all the nearby Wi-Fi networks that are free and public.
It even goes a step further by letting you filter them by whether they require you to register or whether there are any time limits attached to them.
As a crowdsourced app it's getting better all the time with more and more data added and you can help, by editing the details of networks or adding new ones, to give people the most up to date and relevant information possible.
The app is still in beta but that doesn't mean you can't get it. If you're on iOS you just enter your email address on the WiFiMapper website to get instructions, while Android users simply have to join the Google+ group and follow a link to get the beta.
It's well worth doing, as while the hope is that one day not too long from now 4G will be everywhere for the time being that's just not the case, so it's nice to have a plan b.
Have you read why Public Wi-Fi is still very important to 4G subscribers