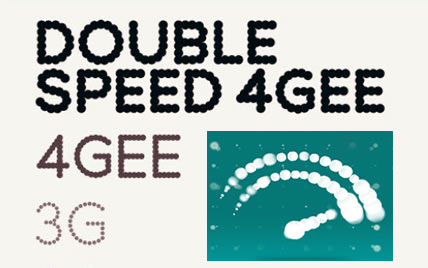 What is Double Speed 4G?
Essentially double speed 4G is exactly what it sounds - 4G at twice the normal speed. Of course 'normal speed' is pretty non-specific in itself but we know that 4G is about 5 times faster than 3G with double speed 4G running at ten times that of 3G.
However it's only EE that's talking about double speed 4G, so In this case normal speed is the normal speed of EE's 4G network, which averages 12-15 Mbps.
Double speed EE 4G then comes in at an average speed of around 24-30 Mbps for downloads, with headline speeds of up to 60 Mbps, while upload speeds should average around 11 Mbps compared to 5-6 Mbps on standard speed 4G, so it really is double speed.
Does anyone else offer double speed 4G?
Not at the moment no. O2 and Vodafone are a bit cagy on their specific 4G speeds, but claim that they're around 5-6 times faster than 3G, which would put them roughly in line with EE's normal 4G speeds.
EE has a substantial head start on the other 4G networks so it's feasible that some of them will eventually offer double speed, but they don't so far.
EE also has more spectrum than anyone else which could limit the other networks ability to offer double speed, though Vodafone has almost as much spectrum overall so may well be able to.
It's worth noting that if and when other networks do start offering double speed 4G they may not use the same terminology, they may just call it a speed boost or some other buzz word, though we'll be sure to let you know if any substantial speed increases to go ahead.
How is it possible?
EE has enough spectrum available to them to be able to allocate twice as much spectrum to customers as they did in the initial rollout, so while locations with standard speed 4GEE will allow customers to use 2 x 10 MHz of 1800 MHz spectrum, double speed locations will allow customers to use 2 x 20 MHz of 1800 MHz spectrum.
EE uses the analogy that it's like adding two additional lanes of traffic to a road and changing the speed limit, so that more cars can travel and they can move at a higher speed.
As you're not actually using any more data it also won't affect your data use, it just means that the data you are using will be sent and received faster.
EE claims that it has enough spectrum that even as more people join its network it will still have the capacity to offer double speed 4G, even at peak times and in busy locations.
Who can use it?
Anyone with a 4G contract on EE and a 4G-ready handset or dongle can use double speed 4G at no extra charge and with no additional setup required, you just have to be in an area that receives a double speed signal.
Right now there are only 20 towns and cities that can get double speed 4G, specifically Belfast, Birmingham, Bristol, Cardiff, Derby, Edinburgh, Glasgow, Leeds, Liverpool, London, Manchester, Newcastle, Nottingham, Sheffield, Southampton, Sunderland, Sutton Coldfield, Walsall, West Bromwich and Wolverhampton.
Over time EE intends to extend its double speed 4G to the rest of the UK, ultimately bringing it to 98% of the UK by the end of 2014. However you won't necessarily be able to tell that you're in a double speed area as there's no change to how the network appears on your phone, the only indication will be the fact that everything goes much faster.
What phones work with it?
Basically any EE handset that works with normal 4G will also work with double speed 4G. Right now that includes the iPhone 5S, iPhone 5, iPhone 5C, Samsung Galaxy S4, Samsung Galaxy S4 Mini, HTC One, HTC One Mini, BlackBerry Q5, Samsung Galaxy Note 2, Samsung Galaxy S3, BlackBerry Q10, BlackBerry Z10, Sony Xperia SP, Sony Xperia Z1, Sony Xperia Z, Nokia Lumia 820, Nokia Lumia 625, Nokia Lumia 925, Nokia Lumia 1020 and Samsung Galaxy Note 3. You can expect the selection to increase over time as more and more new 4G compatible handsets are released.

Everything will be quicker. The key advantage of 4G is that it's faster than 3G and double speed 4G just takes that even further, theoretically letting you download or stream films, music and other files twice as quickly. It will also have a noticeable benefit when just browsing the internet, as pages should load almost instantly.
You may like to read also : What is 4G ? An Easy to Follow Guide